Biofuel Industry Says U.S. EPA Failed to Ensure Integrity of Renewable Fuel Program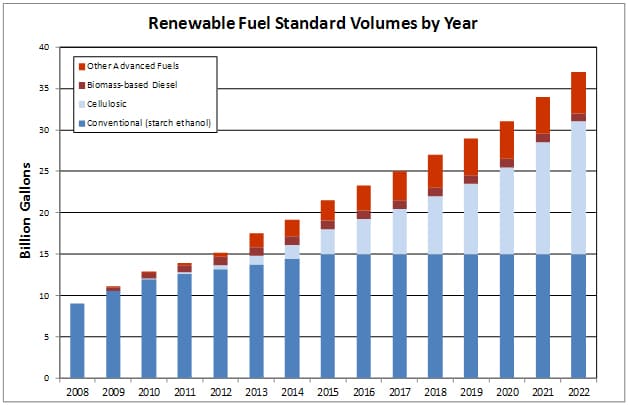 The U.S. Environmental Protection Agency on Oct. 15 proposed to calculate the small refinery exemptions for 2020 under the Renewable Fuel Standard, or RFS, program based on a three-year average of the relief recommended by the Energy Department. The biofuel industry criticized the proposal for failing to meet the Oct. 4 agreement with the Trump administration that called for a stronger conventional biofuel requirement of more than 15 billion gallons. The draft rule proposes to use the department's recommendations, which the EPA "blatantly ignored over and over," the Renewable Fuel Association said.
The Iowa Renewable Fuels Association said that proposing to use the department's recommendations that EPA is not obligated to follow means that there is no guarantee that exemptions will be accounted for in the RFS program. Farmers and biofuel producers are being asked to trust the agency to address the exemptions in 2021 after having spent two years "weaponising SREs to unfairly undermine the RFS," the association noted. The Renewable Fuels Association expressed concern that the volume of actual exemptions granted in 2020 could exceed the amount of projected exemptions from the Energy Department, putting the industry back into the "quagmire where the 15-billion-gallon requirement is eroded and undermined."
On July 5, the agency proposed setting a blending volume of 20.04 billion gallons for 2020, up from the current level of 19.92 billion gallons. The proposal would keep the target for conventional biofuel, mainly corn-based ethanol, at 15 billion gallons, drawing criticism for failing to address small refinery exemptions that hurt biofuel demand. In the most recent compliance year, the EPA has granted 31 small refinery exemptions. Under the RFS program, the refining industry is required to blend ethanol and other biofuels into the gasoline supply. The EPA can exempt small refineries if they prove compliance would cause economic hardship. The agency said it will adjust the way it calculates renewable fuel percentages to ensure that the industry blends the final volumes of renewable fuel into the nation's fuel supply and that the required volumes are not effectively reduced by future hardship exemptions for small refineries.
The program, established in 2007, directs the agency to set annually increasing blending mandates for renewable fuel use in the transportation sector to reach 36 billion gallons by 2022.