California-Quebec Carbon Auction Sells Out, Allowances Clear at Record Highs Signalling Market Stability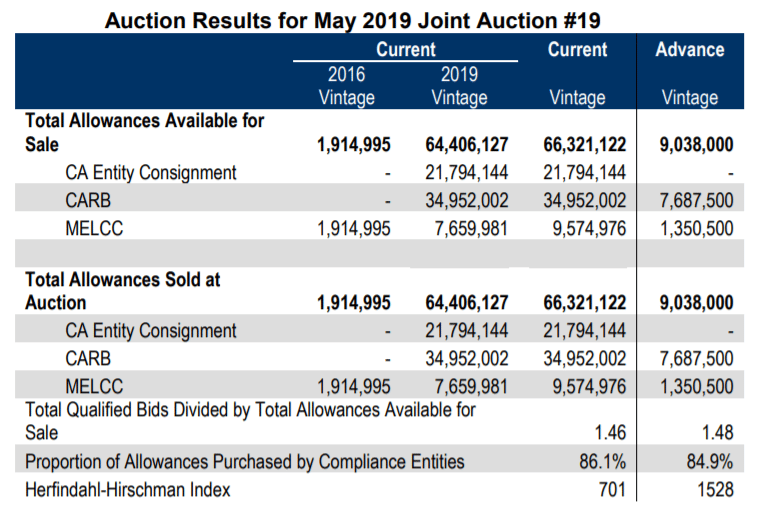 The nineteenth quarterly carbon auction held by California and Quebec sold all of the more than 66 million carbon permits offered for current emissions at a record-high $17.45 per credit, above the floor price of $15.62, according to the results released on May 22 by the California Air Resources Board. The auction also sold 100 percent of the more than 9 million permits offered for 2022 emissions at a price of $17.40, also an all-time high.
The sell-out coupled with the steady rise in the price of emission allowances indicate market stability. Quebec offered about 1.9 million of previously unsold allowances while California did not offer any. The tightened supply likely led to the higher clearing price. By comparison, the previous auction held in February  sold current allowances at a clearing price of $15.73. That auction sold all the current permits on offer and about 66 percent of future permits, demonstrating strong market performance with no sizeable impact from California's troubled utility Pacific Gas & Electric Company not participating in the auction.
In December 2018, the California Air Resources Board adopted changes to the state's cap-and-trade program to streamline implementation and contain costs through 2030. The amendments set a ceiling on price rises for California entities, ensuring certainty about future costs, and also lower the number of carbon offsets allowed after 2020. The new price ceiling will start at $65 in 2021 and increase each year by five percent plus the rate of inflation. The changes implement Assembly Bill 398 enacted in 2017 extending the program through 2030.
The cap-and-trade program, which places an economy-wide cap on major emitting sources, is a central part of California's plan to reduce greenhouse gas emissions 40 percent below 1990 levels by 2030. The policy survived long-standing litigation when the court ruled that cap-and-trade does not impose an unconstitutional tax.