Colorado Enacts Suite of Climate, Energy Bills, Building Path Toward 100 Percent Renewable Energy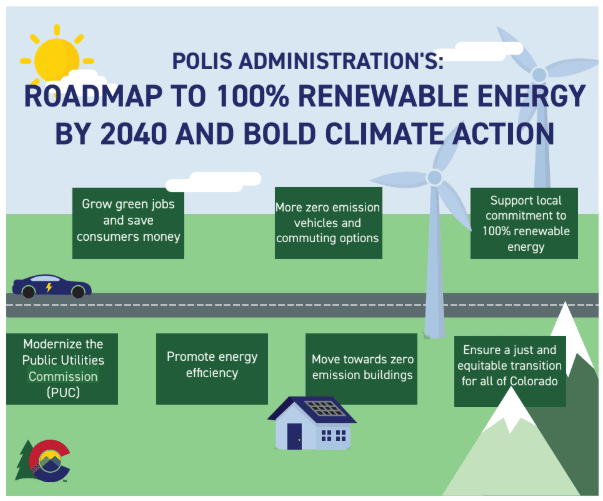 Democratic Governor Jared Polis on May 30 signed a slate of bills that will transform the state's energy and environmental landscape, and unveiled a roadmap for the state to reach 100 percent renewable energy by 2040.
Among the measures, House Bill 19-1261, the centerpiece of the state's climate policy, sets a goal of achieving emission cuts of 26 percent by 2025, 50 percent by 2030, and 90 percent by 2050, relative to 2005 levels. The bill requires state regulators to establish implementation rules that may be revised as necessary to ensure timely progress toward the goals. In addition to renewable development, the rules may include regulatory strategies that have been adopted by other jurisdictions to cut multi-sector emissions and facilitate zero-emission technologies.
To ensure robust tracking of greenhouse gas emissions, Senate Bill 19-96 directs regulators to adopt rules requiring emitting-entities to track and report their emissions, and update the statewide GHG inventory at least every two years. HB 19-1188 requires fiscal notes on legislative measures to include an assessment of the potential increase or decrease in greenhouse gas pollution in the 10-year period following enactment.
Polis also signed SB 19-236, which directs the Public Utilities Commission to consider the cost of carbon in utilities resource planning processes. The bill calls for an investigation of financial performance-based incentives and metric tracking to identify mechanisms that align utility operations and investments with public benefit goals. The commission must also adopt rules requiring investor-owned utilities to file distribution system plans and submit workforce transition details whey they propose to retire power plants.
HB 19-1003 increases the maximum size of a community solar gardens to 5 megawatts from 2 megawatts. HB 19-1231 implements new efficiency standards for many household appliances, while HB 19-1260 requires updates building energy codes.
A suite of bills supporting electric vehicle adoption were also enacted including HB19-1159, which modifies the income tax credit for electric and plug-in hybrid electric passenger vehicles and trucks, and extends the credit for tax years 2022 through 2025.
The renewable energy roadmap details directions, policies and actions, which will take the state toward a clean energy future. The roadmap outlines goals — including progress to date — to modernize the Public Utilities Commission, grow green jobs, promote energy efficiency, increase zero emission vehicles, support local commitment to renewables, and move toward zero emission buildings.