U.S. Court Orders EPA to Review Biofuel Waivers Granted to Refineries Under Renewable Fuel Standard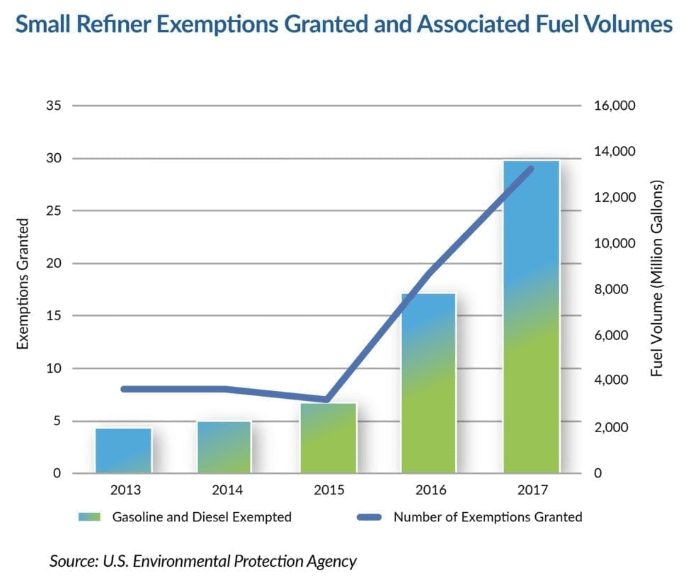 The U.S. Court of Appeals for the Tenth Circuit on Jan. 24 vacated three orders issued by the Environmental Protection Agency in 2017 granting extensions of small refinery exemptions under the Renewable Fuel Standard, or RFS, program. The court ruled that the agency cannot allow extensions of exemptions that had lapsed, noting that none of the three refineries in question consistently received a waiver in the preceding years, and therefore, there was nothing for the agency to "extend." Biofuel producers commended the decision, which could broadly impact the agency's approach to granting biofuel waivers. The EPA has been criticized for failing to account for refinery exemptions that hurt biofuel demand by reducing volume requirements under the RFS program, which requires renewable fuel to be blended into transportation fuel in increasing amounts each year.
At issue are the waivers granted to HollyFrontier Corp.'s Woods Cross and Cheyenne refineries and CVR Energy Inc.'s Wynewood refinery. The Renewable Fuel Association welcomed the court decision, saying that the ruling affirms the group's "long-held position that EPA's recent practices and policies regarding small refinery exemption extensions were completely unlawful," and "interpretation issues resolved by the court apply much more broadly."
EPA's waivers have reduced RFS volume requirements by more than 4 billion gallons over the past three years, impacting corn demand, according to the National Corn Growers Association. The group expressed optimism that the court's decision will "put an end to the demand destruction caused by waivers and keep the RFS back on track."
The RFS program, established in 2007, directs the EPA to set annually increasing blending mandates for renewable fuel use in the transportation sector to reach 36 billion gallons by 2022. Last December, the agency issued a final rule for 2020 requirements, setting a blending volume of 20.09 billion gallons for 2020 under the Renewable Fuel Standard, up from the current level of 19.92 billion gallons. The proposal would keep the target for conventional biofuel, mainly corn-based ethanol, at 15 billion gallons.