Daily Electricity Demand in U.S. Central Region Drops by Up To 13 Percent Amid COVID-19 Mitigation Efforts: EIA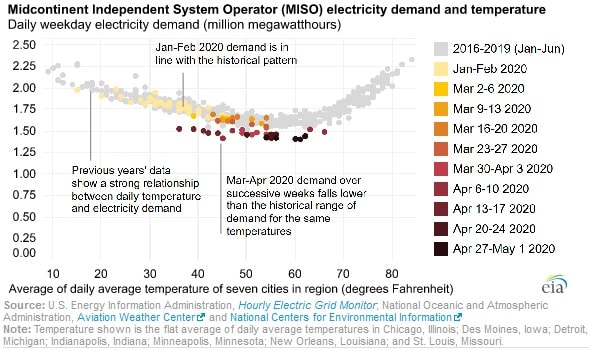 Daily weekday electricity demand in the U.S. central region saw a decrease of 9 percent to 13 percent during March and April due to mitigation efforts, like business shutdowns, put in place to curb the spread of COVID-19, according to a May 7 report from the Energy Information Administration. New York experienced similar declines, while other states like Florida had no significant changes due in part to differences in regional power consumption.
By mid March, the Midcontinent Independent System Operator region, which spans from Minnesota to Louisiana, began to see a decrease in daily electricity demand, averaging 9 percent to 13 percent lower compared to historical demand. Michigan and Wisconsin had a slightly higher decrease of 11 percent to 16 percent from late March through April, mainly due to the closure of three major car manufacturers – Ford, General Motors, and Fiat Chrysler – and other industrial facilities, which tend to consume large quantities of electricity.
Commercial and industrial electricity demand decreased mainly due to schools and businesses closing across the country, while residential electricity usage hiked due to stay-at-home orders, as seen in Florida where it accounts for 53 percent of the state's electricity consumption. Floridians are likely using more air conditioning given the current time of the year and the hot weather associated with it, while other regions are still using space heating. A factor that may influence patterns is the type of equipment installed in homes and the fuel it uses.
The EIA estimates that new patterns could occur as the country shifts towards warmer temperatures and the use of air conditioning increases, particularly as the pandemic mitigation efforts continue.