Dominion Energy Seeks Approval of 2.6-Gigawatt Wind Project Offshore Virginia, Largest in U.S.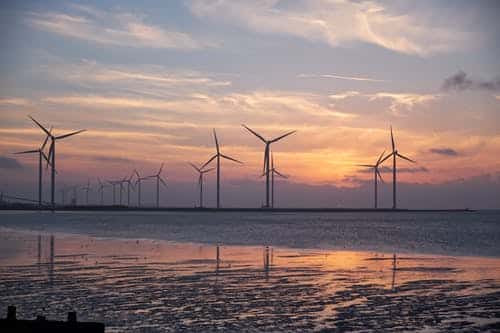 Dominion Energy Inc. on Nov. 5 filed an application with the Virginia State Corporation Commission seeking approval to build a 2.6 gigawatt offshore wind project. The Coastal Virginia Offshore Wind commercial project, which represents a $9.8 billion investment, would be the biggest offshore wind project in the U.S. The project would contribute to Virginia's goal of deploying 5.2 gigawatts of offshore wind capacity by 2034, as well as the federal goal of 30 gigawatts by 2030.
Dominion Energy is already operating a two-turbine, 12-megawatt pilot wind farm located near the proposed project location and is expected to provide data to inform the commercial-scale project. In July, the Bureau of Ocean Energy Management announced its intent to prepare an environmental impact statement for the commercial project and has held virtual public meetings to receive input on the proposed project.
Capital investment in the project represents $9.8 billion and customer costs would be reduced by applicable federal tax credits, according to Dominion Energy. Costs are subject to commission approval, and Dominion expects applicable tax credits of more than $1 billion and expected fuel costs savings of over $3 billion during the first 10 years of the project. Dominion Energy said that the project could create about 900 jobs, generate $5 million per year in local and state tax revenue, and provide $143 million in economic benefits annually during its construction, based on a study commissioned by the Hampton Roads Alliance. During operation, the commercial project could result in 1,100 jobs, yield $11 million per year in tax revenue and almost $210 million in annual economic benefits.
The company plans to construct about 17 miles of new transmission lines and onshore infrastructure to distribute power from the commercial project and has proposed a route for the commission to consider, along with alternative options.
This project would build off of recent state economic developments in the offshore wind sector, including the Siemens Gamesa Renewable Energy turbine blade factory and Dominion's investment in the only US-flagged installation vessel.
More information about US-wide offshore wind and RPS investments, read our Visual Primer.
---
EnerKnol Pulses like this one are powered by the EnerKnol Platform—the first comprehensive database for real-time energy policy tracking. Sign up for a free trial below for access to key regulatory data and deep industry insights across the energy spectrum.
ACCESS FREE TRIAL