Enbridge's $2.9 Billion Oil Pipeline Wins Minnesota Court Challenge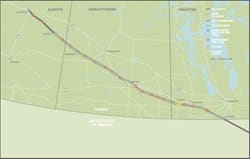 The Minnesota Supreme Court on Sept. 17 declined to hear challenges by tribal and conservation groups to the environmental review of Enbridge Inc.'s proposal for replacing its aging Line 3 crude oil pipeline across northern Minnesota.
In a June ruling, the Minnesota Court of Appeals found that the project's environmental review failed to consider the potential impact of an oil spill in the Lake Superior watershed and remanded the issue back to the Minnesota Public Utilities Commission. Petitioners appealed to the Supreme Court to review other portions of the impact statement that were approved.
The decision allows the commission to begin addressing the deficiency identified by the appeals court. Following the appeals court remand, the Pollution Control Agency and Department of Natural Resources said they may not take final action on permit applications for its Line 3 replacement project until the deficiency in the environmental review of the proposed oil pipeline is addressed.
Last October, the commission issued an order approving the project, following a favorable vote in June. The approval came after much deliberation over replacing a 1960s-era line versus limiting environmental risks. Environmental groups have strongly opposed the project, arguing that it risks spills in the Mississippi River headwaters region and would increase the flow of tar sands crude oil from Canada to U.S. refineries.
The Line 3 project is designed to fully replace 1,031 miles of pipeline between Hardisty, Alberta, and Superior, Wisconsin.