ERCOT Holds Emergency Board Meeting In Light of Sweeping Power Failures Across Texas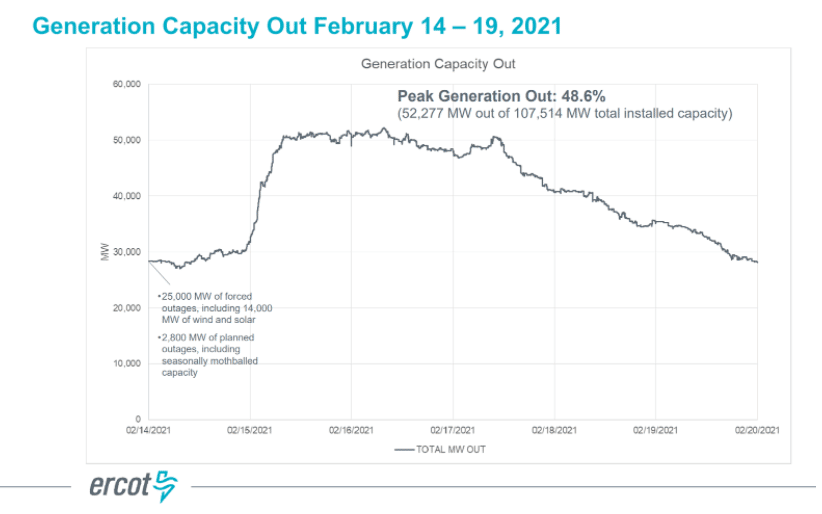 The Electricity Reliability Council of Texas Inc. (ERCOT) Board of Directors on Feb. 24 convened for an emergency meeting to discuss and analyze the issues that led to grid infrastructure failures across Texas from Feb. 12 onwards. These outages were prompted by the presence of a polar vortex which brought about severely cold weather conditions onto the Midwestern and Southern U.S.
ERCOT President Bill Magness labelled the scenario a "devastating event" and reported during the meeting that Texas was about four 4 minutes away from a potentially multiple-week long total blackout. Following the board meeting, the resignation of six ERCOT Board members went into effect.
ERCOT reported, through the meeting's official presentation, that approximately 48.6 percent of generation was forced off the system, and therefore controlled outages were implemented to avoid mass-outages. This peak of generation outage was reported on Feb. 17. Information on which transmission operators shed load in response to the circumstances was also included.
The presentation also pointed that ERCOT was cognizant of the hazardous weather conditions and had outlined a timeframe of communication measures as far back as Nov. 5, 2020:
November 5: ERCOT meteorologist issues winter outlook for market participants and public noting the "very good" chance for an extreme cold weather event during winter 2020/2021. 

February 3: ERCOT meteorologist warns Market participants and the public of coldest weather of the year. Weather updates continue. 

February 8: Operating condition notice issued for extreme cold weather event, posted on public website. 

February 10: Advisory issued for extreme cold weather event posted on public website; issued grid conditions update for market media representatives.

 February 11: Watch issued for cold weather event (hotline calls made, notice to Market Participants, posted on public website); news release on extreme weather expected, social media outreach. 

February 12: Texas Energy Reliability Council meeting.

 February 13: State Operations Center news conference forecast conservation alert; emergency notice issued for extreme cold weather event, posted on public website; Texas Energy Reliability Council meeting. 

February 14: Issued conservation appeal by news release, performed social media outreach, held media briefing.
ERCOT manages the flow of electric power to more than 26 million Texas customers representing about 90 percent of the state's electric load.