FERC Issues Final Environmental Study for Jordan Cove LNG Terminal and 230-Mile Pipeline Project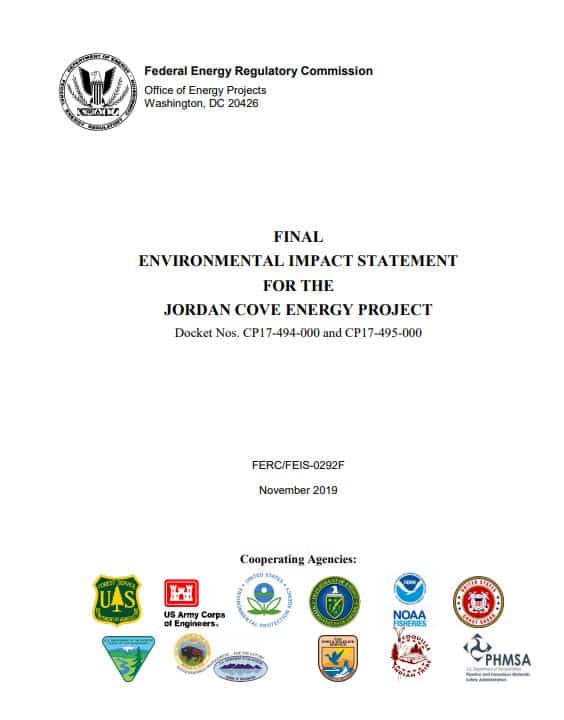 The staff of the Federal Energy Regulatory Commission has prepared a final environmental impact statement for the Jordan Cove Liquefied Natural Gas project and the Pacific Connector Gas Pipeline, set to be the first natural gas export facility on the U.S. West Coast, stating it would result in some adverse long-term and permanent impacts on the environment, according to a November 15 press release.
The study concludes that constructing the project would temporarily, but significantly impact housing in Coos Bay; that constructing and operating the project would permanently and significantly impact the visual character of the area and that the project could have a significant impact on the Southwest Oregon Regional Airport operations. Furthermore, constructing and operating the project is likely to adversely affect 18 federally-listed or proposed threatened and endangered species. In this context, minimization and mitigation measures were attached to the report and FERC staff recommended these as conditions to any certificate issued by the commission for the project.
The LNG terminal would be located in Coos County, Oregon, and would be capable of liquefying up to 1.04 billion cubic feet of natural gas per day for export. The approximately 200-acre LNG terminal site would include: a pipeline gas conditioning facility; five natural gas liquefaction trains; two full-containment LNG storage tanks and associated equipment. As proposed, it would be called upon by about 120 LNG carriers per year.
Pacific Connector would originate at interconnections with existing pipeline systems in Oregon and connect with the LNG terminal. The approximately 229-mile-long, 36-inch-diameter pipeline would be capable of transporting up to 1.2 billion cubic feet of natural gas per day.
Jordan Cove Energy Project L.P. and Pacific Connector Gas Pipeline LP are subsidiaries of Pembina Pipeline Corporation.