Massachusetts' Second Offshore Wind Contract Projected to Yield $2.4 Billion in Ratepayer Benefits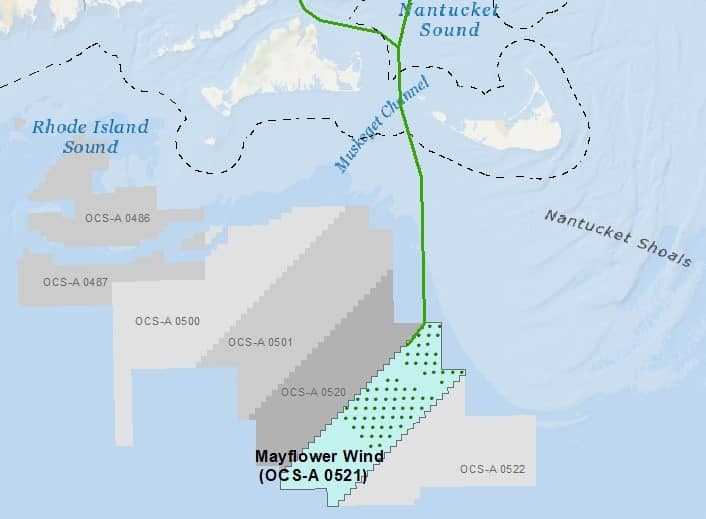 The Massachusetts Department of Energy Resources endorsed the long-term contracts executed by the state's electric distribution companies to procure offshore wind power from Mayflower Wind Energy LLC 's 804-megawatt project, citing net benefits of about $2.4 billion to ratepayers over the 20-year term. The wind generation output and renewable energy certificates from the project will be available at a record-low levelized price of $58 a megawatt-hour, compared to $84 projected to cost for buying the same amount in the market. The previous low was $65 a megawatt-hour secured by Vineyard Wind's 800-megawatt project that won Massachusetts' first offshore wind solicitation.
Mayflower Wind, a joint venture of Shell New Energies US LLC and EDPR Offshore North America LLC, was selected in Massachusetts' second round of offshore wind solicitation last November. Unitil Corp., National Grid plc, and Eversource Energy filed their contracts for review and approval by the Massachusetts Department of Public Utilities on Feb. 10.
Over the life of the contract, the Mayflower project is expected to provide an average $24 per megawatt-hour of direct savings to ratepayers. Moreover, the negotiated contacts require the developer to maximize the federal investment tax credit, noting that qualifying for a credit in excess of 12 percent will further reduce the contracted price. In addition to the direct market benefits from these fixed cost contracts, the project provides indirect benefits including energy market price reductions and increased supply of renewable energy certificates that lower the costs to comply with the Renewable Energy Portfolio Standard. Overall, the total direct and indirect benefits to ratepayers are expected to be about $53 per megawatt-hour on average, over the term of the contract, with total net benefits of about $2.4 billion. The project opens significant opportunities to develop the local supply chain and jobs with a commitment of more than $77 million to support economic development, low-income ratepayer programs, and marine science research, the agency said.
With the selection of Mayflower wind, the distribution companies have reached the target required under a 2016 law, which directed the state to secure 1.6 gigawatts of offshore wind by 2027. The first solicitation resulted in 20-year contracts with the 800 MW Vineyard Wind project, co-owned by Copenhagen Infrastructure Partners and Iberdrola SA's Avangrid Renewables. In April 2019, the Massachusetts regulators authorized power purchase agreements between Vineyard Wind LLC and the state's electric distribution companies. Vineyard Wind, expected to be the first large-scale offshore wind farm in the U.S., recently announced that it will not be able to begin commercial operation in 2022, following a federal regulators' new permitting timeline that aims to issue a final decision on Dec. 18, more than a year later compared to the original schedule's August 2019 date.