Minnesota Regulators Clear Environmental Review for Enbridge's $2.9 Billion Oil Pipeline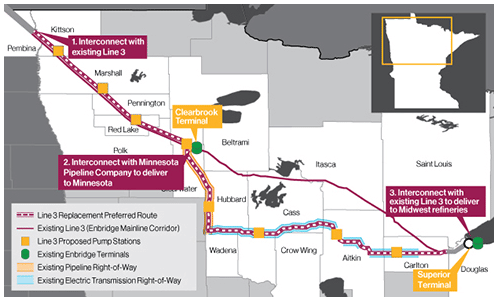 The Minnesota Public Utilities Commission on Feb. 3 determined that a court-ordered revised environmental review of Enbridge Inc.'s Line 3 pipeline project is adequate. The agency also approved and re-issued the certificate of need and route permit for the project, which has been delayed for a year due to opposition from environmental groups and permitting issues. The project entails replacement of a 50-year old pipeline, which spans over 1,000 miles to deliver crude oil from Alberta, Canada, to refineries in the Midwest and beyond.
The state's Department of Commerce issued a revised assessment following the commission's order in response to a June 2019 ruling by the Minnesota Court of Appeals, which found that the project's environmental review failed to consider the potential impact of an oil spill into the Lake Superior watershed.
In October 2018, the commission issued an order approving the project after much deliberation over replacing a 1960s-era line versus limiting environmental risks. Environmental groups have strongly opposed the project, arguing that it risks spills in the Mississippi River headwaters region and would increase the flow of tar sands crude oil from Canada to U.S. refineries.
The Line 3 project is designed to fully replace 1,031 miles of pipeline between Hardisty, Alberta, and Superior, Wisconsin. The $2.9-billion U.S. portion consists of replacing an existing pipeline for 13 miles in North Dakota, 337 miles in Minnesota, and 14 miles in Wisconsin.