Motor Gasoline Accounted for 45 Percent of U.S. Petroleum Consumption in 2019: EIA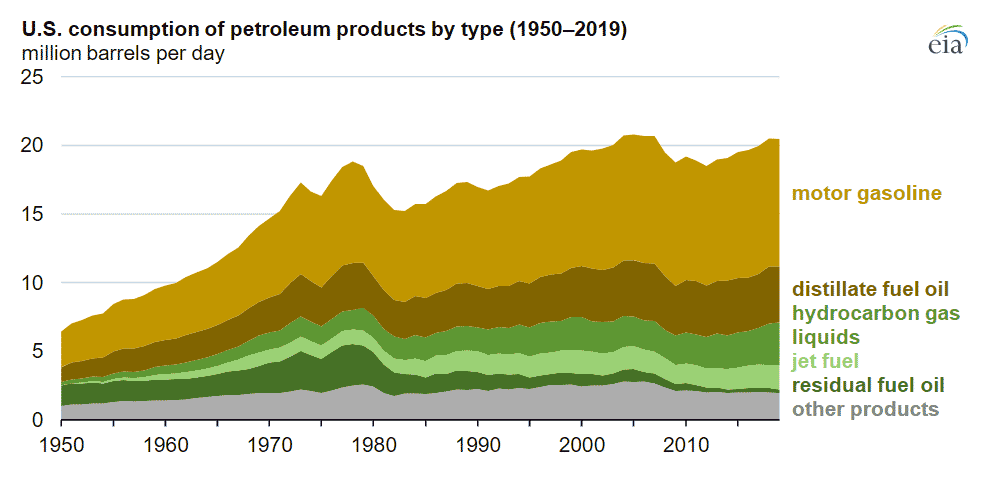 Petroleum accounted for 37 percent of total energy consumed in the U.S. last year, with motor gasoline representing nearly half the petroleum products consumed, according to a June 22 report from the U.S. Energy Information Administration.
The U.S. consumes more petroleum than it produces, with the remainder supplied by imports and domestic stock inventories saved for later use.
More than 20 million barrels per day of petroleum was consumed in 2019, and petroleum production, including crude oil, lease condensate, and natural gas liquids, reached a record 17 million barrels per day.
Last year, the U.S. continued to import more petroleum than it exported on average, with imports exceeding 9 million barrels per day and exports reaching a record volume of 8.5 million barrels per day.
During the fourth quarter of 2019, the U.S. exported more crude oil and petroleum products than it imported.
The U.S. was the world's largest petroleum producer in 2019, with total field production of crude oil growing to a record of more than 12 million barrels per day and natural gas liquids reaching a record of almost 5 million barrels per day.
U.S. petroleum production saw substantial growth during the last decade, thanks to production techniques in tight rock formations developed using horizontal drilling and hydraulic fracturing to extract hydrocarbons.
Crude oil imports accounted for most U.S. petroleum trade in 2019, but dropped to less than 7 million barrels per day, the lowest level since 1993.