Natural Gas Prices to Drop by 9 Percent This Year as Production Exceeds Demand: EIA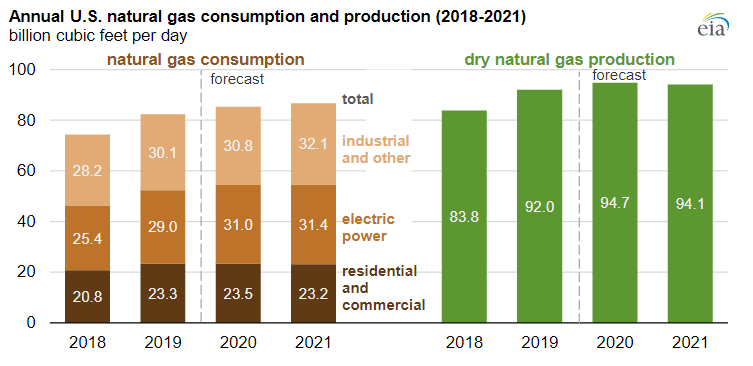 Continued growth in U.S. natural gas production is expected to result in 9 percent lower average prices this year compared to 2019, according to a Jan. 15 report from the U.S. Energy Information Administration. Natural gas production, which set a new record last year, averaging 92.0 billion cubic feet per day is forecast to rise to 94.7 Bcf/d in 2020 and then decline to 94.1 Bcf/d in 2021. Prices are projected to rise by 9 percent in 2021 in response to lower forecast natural gas spot prices in 2020, which would reduce Appalachian Basin production.
The production growth is attributed to improved drilling efficiency and cost reductions, higher associated gas from oil rigs, and increased takeaway pipeline capacity from the Appalachian and Permian production regions.

Most U.S. production will come from the Appalachian Basin in the Northeast, followed by the Permian Basin in western Texas and New Mexico and the Haynesville shale formation in eastern Texas.

Total U.S. natural gas consumption remains relatively unchanged compared with 2019 levels, increasing 1.7 percent in 2020, but decreasing 1.2 percent in 2021 to an average 85.7 Bcf/d; consumption is expected to fall slightly in the residential and commercial sectors due to expected milder weather.

In 2020, new methanol plants that use natural gas as feedstock will support increased industrial sector consumption, which is expected to flatten next year because of higher industrial sector natural gas prices.

The U.S. will continue to be a next exporter of natural gas during the forecast period, with exports averaging 7.3 Bcf/d this year, up from 2.0 Bcf/d in 2019; net exports are expected to further rise in 2021 to 8.9 Bcf/d as new liquefied natural gas projects enter service.