NERC Report Underscores Summer Electricity Concerns for Texas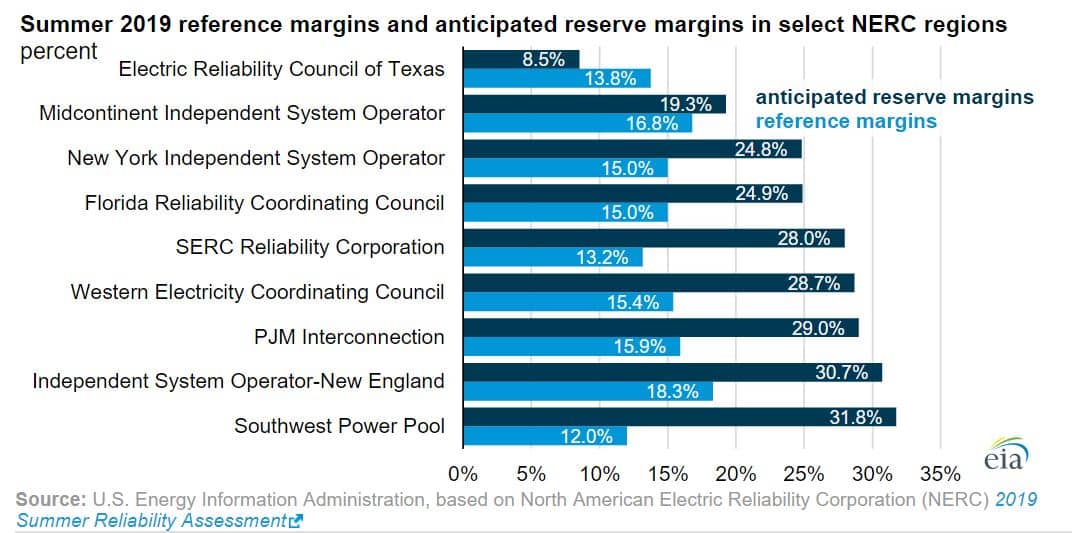 The North American Electric Reliability Corporation's 2019 Summer Reliability Assessment warns that the Electric Reliability Council of Texas Inc. might not have enough resources available to meet this summer's projected peak electricity demand. The report, published earlier this month, also highlighted potential ramping issues associated with the growth in solar generation that may affect the California Independent System Operator Corp.
Before each summer, the Council publishes a reliability assessment that includes anticipated electricity demand and supply changes as well as regional challenges or expected conditions that may affect the bulk power system. According to the report, ERCOT is the only region in the lower 48 states where the anticipated reserve margin, which considers the amount of available capacity relative to net internal electricity demand, is lower than the region's reference margin, 8.5 percent to 13.8 percent, respectively. NERC says that the discrepancy is due to load growth, delays in new sources of electricity generation and the announced retirement of the 470-megawatt Gibbons Creek coal-fired plant.
Already in May, ERCOT released its seasonal assessment report for the upcoming summer, which forecasted a peak demand of about 74,850 megawatts, 1,300 megawatts higher than the all-time record set last July. The grid operator identified a potential need for an energy emergency alert status, in order to maintain system reliability. Declaring an alert enables the grid operator to utilize resources that are only available during scarcity conditions. These include demand response, additional generation or imports from neighboring regions, voluntary calls for conservation, or resources that are usually set aside as operating reserves.
NERC is a nonprofit corporation that oversees regional electric reliability entities in the Lower 48 United States, Canada, and parts of Mexico.