Nevada Opens Fourth Tier of Net Metering Program After Solar Capacity Reaches 80-Megawatt Limit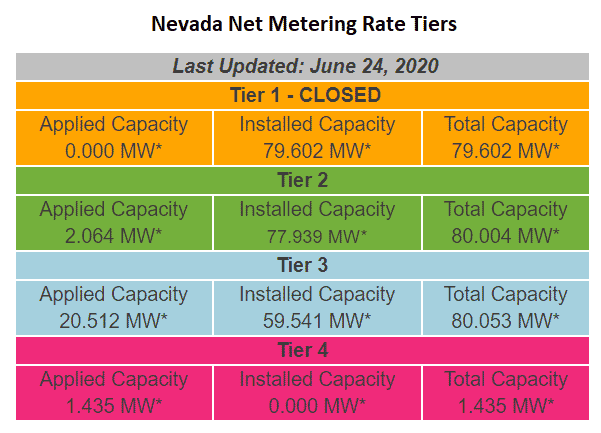 The Nevada Public Utilities Commission on June 24 announced that subscriptions for the third tier of its net metering program reached the 80-megawatt threshold established by a 2017 law, which created a four-tier structure to compensate customers for grid-exported energy. There is no capacity limit for Tier four, which is now open for applications, but credits will decrease to 75 percent from 81 percent for customers enrolling in the new tier.
Legislation enacted in June 2017 reinstated net metering in the state, creating a four-tiered system to reimburse customers at slightly less than the retail rate of electricity. The compensation was set to start at 95 percent and decrease in 7-percent increments for every 80 megawatts of supplies that are added, with a floor of 75 percent. Tier 4 will remain open for all future net metering customers.
New and existing solar capacity on the system have topped 240 megawatts under the first three tranches since the new net metering policy two effect three years ago.