Nevada Proposes Vehicle Emission Standards to Advance Sustainability Goals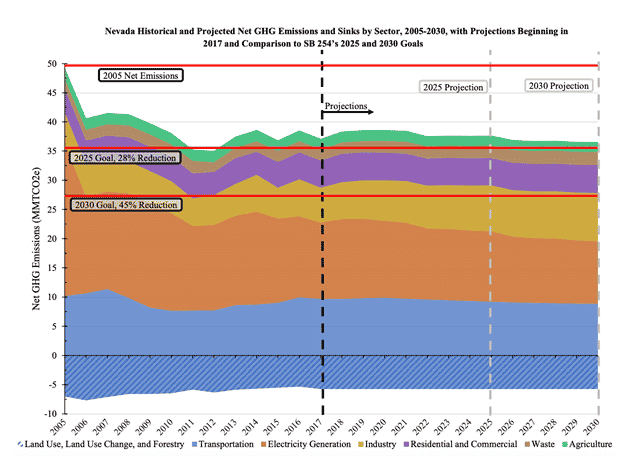 Democratic Governor Steve Sisolak on June 22 announced the Clean Cars Nevada initiative to consider the adoption of low- and zero-emission standards for light-duty vehicles. The program will help advance the state's goal of reducing emissions by 28 percent by 2025 and 45 percent by 2030 relative to 2005 levels. Nevada would join 14 other states, which have fully or partially adopted clean car standards set by California. Nevadans would have more choices for less-polluting cars and trucks at dealerships from 2024.
The Nevada Division of Environmental Protection has started a rulemaking process to amend and adopt the widely-applied Clean Cars Standard tailored to the state's needs. The regulation will focus on encouraging light duty vehicles including passenger cars and light-duty trucks, which will exert an economic effect on a wide range of auto industry stakeholders, the public consumers, as well as the state agencies. Colorado, Connecticut, Delaware, District of Columbia, Maine, Maryland, Massachusetts, New Jersey, New York, Oregon, Pennsylvania, Rhode Island, Vermont, Washington have adopted at least a portion of the clean car program.
The announcement comes three months after the U.S. Environmental Protection Agency and Transportation Department finalized a rule that increases the stringency of auto efficiency standards by 1.5 percent a year, weakening an Obama-era rule that would have required increases of about 5 percent per year.
The requirements of selling more zero emission vehicles may increase the costs for auto manufacturers since they have to meet the minimum green credits mandates. In addition, the whole auto supply chain including parts suppliers, motor vehicle dealers, auto repair facilities, and retail outlets may also bear an increasing business cost. Electric vehicle customers may benefit from a lower auto price as the market becomes more competitive and the repair costs and fueling costs get lower. To the agency, more job positions will be available during the implementation of the program.
Sisolak signed an executive order in November 2019 directing state agencies to evaluate policies and regulatory strategies to achieve emissions reductions consistent with Nevada's commitment as a member of the U.S. Climate Alliance. The directors of the Department of Conservation and Natural Resources and the Governor's Office of Energy will coordinate the efforts of state agencies to advance Nevada's climate goals. The agencies must develop policy recommendations and deliver a climate strategy report by Dec. 1, 2020. Last March, Nevada joined the U.S. Climate Alliance, a coalition of 25 states, which have committed to achieve a 26-28 percent cut in emissions from 2005 levels by 2025, in accordance with the Paris climate agreement.
Several outreach events will take place from August 2020 to March 2021. The agency will take the stakeholders input into consideration during the regulation design before it is submitted to the State Environmental Commission and state Legislative Commission.