Nevada's 690-Megawatt Gemini Solar Project Moves Closer to Federal Approval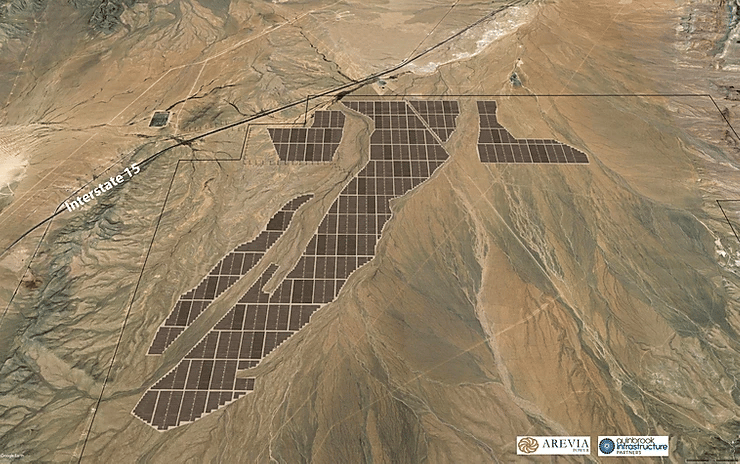 The U.S. Interior Department's Bureau of Land Management on Dec. 30 released a favorable environmental review for the Gemini solar project, a proposed 690-megawatt facility that would span 7,100 acres of BLM-administered land, located about 33 miles northeast of Las Vegas. The $1 billion project, which includes 380 megawatts of battery storage, would be the largest solar farm in the U.S. The project is being developed by Quinbrook Infrastructure Partners in collaboration with Arevia Power. The Nevada Public Utilities Commission recently approved NV Energy's 25-year power purchase agreement with Quinbrook for the solar plus battery project.
The facility will help fulfill NV Energy's requirements under Nevada's renewable portfolio standard, which was doubled last year to 50 percent by 2030. In a Dec. 5 order, the Nevada commission approved the utility's resource plan, which calls for the addition of 1,190 megawatts of new solar projects and 590 megawatts of energy storage, including the Gemini project.
Under the "Hybrid Alternative," preferred by the bureau, about 65 percent of the site would be mowed to maintain vegetation and 35 percent would be constructed using traditional methods. The agency considered several potential alternatives namely, the proposed action, two alternatives to the proposed action, and the no-action alternative. While the proposed action would utilize traditional development methods, which include "disk and roll" to remove vegetation in the solar array areas, the "All Mowing Alternative" would involve only mowing in solar array areas.
Protests are due by Jan. 27. The agency will issue a record of decision about within 90 days after the publication of the final environmental impact statement.
NV Energy is a subsidiary of Berkshire Hathaway. Quinbrook is a global investment manager focused on lower carbon and renewable energy infrastructure investment and operational asset management in the U.S., U.K. and Australia. Arevia Power is a solar power development company based in California.