New Jersey Announces Plan to Build Nation's First Purpose-Built Offshore Wind Port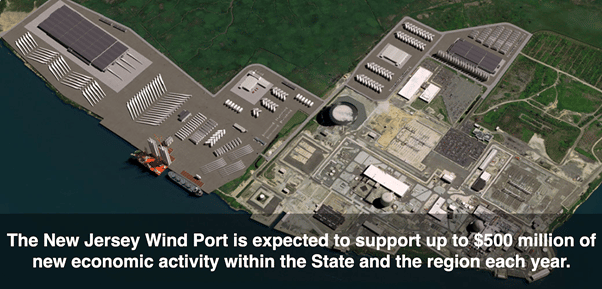 Democratic Governor Phil Murphy on June 16 announced plans to develop an offshore wind port on an artificial island along the Delaware River. The 200-acre New Jersey Wind Port would provide a location for staging, assembly, and manufacturing activities for projects planned along the East Coast. The $300 to $400 million green infrastructure project positions the state as a hub for the U.S. offshore wind industry. The project will have the potential to create up to $500 million of new economic activity and 1,500 manufacturing, assembly, operation, and construction jobs within the state. New Jersey has a goal of achieving 7,500 megawatts of offshore wind by 2035 and 100 percent clean energy by 2050. 
The port will be located on an artificial island on the eastern shores of the Delaware River, southwest of the City of Salem, bringing millions of investment dollars into the local communities. The $300 to $400 million total estimated cost will potentially come from a range of public, private, and public-private partnerships financing options. The state also commits to use union labor, as well as minority and women workers for port construction.
The port will offer an unrivaled combination of marshalling and manufacturing space, heavy-lift wharfs, open access to the Atlantic Ocean, and short steaming distance to more than 50 percent of US offshore wind lease. Construction of the port will consist of two phases: 
Phase one, starting in 2021, will develop a 30-acre site to accommodate marshalling activities and a 25-acre component manufacturing site. 

Phase two will add more than 150 acres to meet the needs of expanded marshalling activities and extensive manufacturing facilities for turbine components such as blades and nacelles. 
In the next few months, the New Jersey Department of Environmental Protection will conduct a thorough assessment of the project's impact on the coastal and other important environmental resources, according to Commissioner Catherine R. McCabe.