New Mexico Regulator Urged to Investigate PNM's 115-Megawatt Nuclear Power Purchase Plan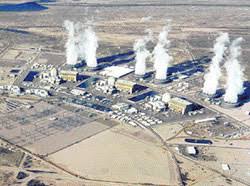 A 26-member coalition of consumer and environmental groups on April 22 asked the New Mexico Public Regulation Commission to examine the ratepayer impacts of the Public Service Company of New Mexico's planned purchase of its expiring leases of the Palo Verde Nuclear Generating Station Unit 1 and Unit 2 in 2023 and 2024, respectively. The petitioners expressed concerns that the move would burden ratepayers with over $1billion, in addition to decommissioning and capital improvement costs.
The complaint highlighted that the outcome of the purchase may be inconsistent with the state's revised renewable portfolio standard. The Energy Transition Act enacted last month raised the standard to 50 percent by 2030. Further, the act requires changes to the company's 2017-2036 integrated resource plan, and may change the cost-effective portfolio of resources. PNM's resource plan assumed that New Mexico's RPS would remain constant at 20 percent, but the new requirement is 40 percent by 2025, 50 percent by 2030, and 80 percent by 2040. The company's cost-effective resource portfolio includes the purchase of the two nuclear units.
Petitioners also pointed out to the 345 bids that PNM received in response to its 2017 request for proposals, which may also change the calculation of the cost-effectiveness of buying the nuclear unit leases.
PNM's purchase will extend the use of the facility for ratepayers for 23 years at a cost of $1.3 billion for Unit 1 and $120 million for Unit 2. The petitioners sought expedited action, noting that PNM must communicate to the lessors whether it will buy the expiring leases of the 104-megawatt Unit 1 by January 15, 2020 and the 10-megawatt Unit 2 by January 15, 2021, respectively.
Public Service Company of New Mexico is a subsidiary of PNM Resources Inc.
---
Enerknol Pulses like this one are powered by the Enerknol Platform the first comprehensive database for real-time energy policy tracking. Sign up for a free trial below for access to key regulatory data and deep industry insights across the energy spectrum.
ACCESS FREE TRIAL