New York Selects Equinor to Develop 2.5 Gigawatts of Offshore Wind Projects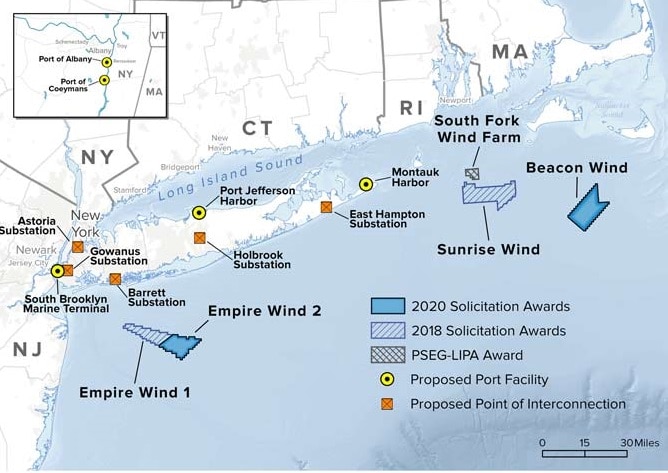 The New York State Energy Research and Development Authority has awarded two offshore wind projects, totaling 2,490 megawatts to Norway's Equinor ASA, in one of the single largest renewable energy procurements in the U.S. to date. The procurement would bring the state halfway toward the goal of achieving 9 gigawatts of offshore wind by 2035. The first round of solicitation held in 2019 resulted in contracts for 1.7 gigawatts of projects expected to come online by 2024.
The selected projects, which represent $8.9 billion in economic activity, include 1,230 megawatts from Beacon Wind 1 off the Massachusetts coast and 1,260 megawatts from Empire Wind 2. With this, New York now has five offshore wind projects in active development.
In the first procurement, finalized in October 2019, the state executed 25-year contracts with the 816-megawatt Empire Wind 1 project proposed by Equinor and the 880-megawatt Sunrise Wind project, a joint venture by Denmark's Orsted A/S and Eversource Energy. Both projects would deliver $3.2 billion in new economic activity and $700 million in avoided health impact benefits.
Further, the projects selected in the latest round will leverage about $3 of private funding for every $1 of public funding to invest $644 million in port facilities in the Capital Region and Brooklyn. The investment is set to create the first U.S. offshore wind tower manufacturing facility, which would support both offshore and onshore projects at the Port of Albany, as well as a staging facility and operations and maintenance hub at the South Brooklyn Marine Terminal.