Northeast Natural Gas Spot Prices Fall as Pipelines Fill: EIA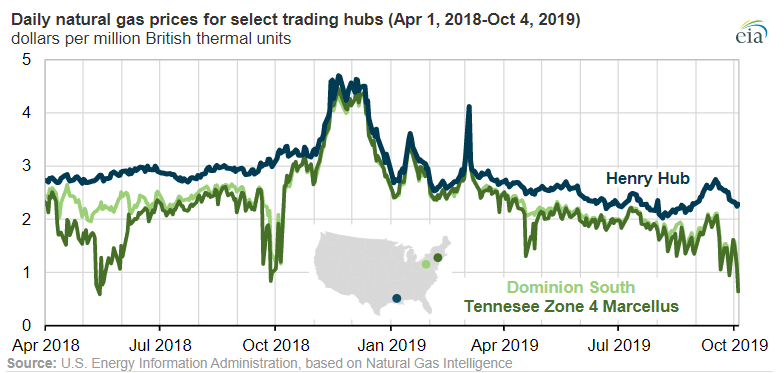 Natural gas flows out of the Northeast region into the rest of the United States averaged more than 16 billion cubic feet per day during September, between 1 and 2 billion cubic feet per day more than in previous months, according to the U.S. Energy Information Administration's October 15 Today in Energy. The movement of natural gas has increased as natural gas spot prices have declined in the Northeast and as production in Appalachia has continued to grow.
During the past three weeks, natural gas prices at Appalachian supply hubs, Dominion South and Tennessee Zone 4 Marcellus, fell from about $2 per million British thermal units in mid-September to lows of 76¢/million British thermal units and 65¢/million British thermal units, respectively, on October 4. Lower prices have resulted in more favorable economics for transporting natural gas volumes from the Northeast to other regional demand markets, notably those in the South Central and Midwest regions.