PSEG Plans to Sell Nearly 6.8 Gigawatts of Fossil Fuel Power Plants, Retain Nuclear Generation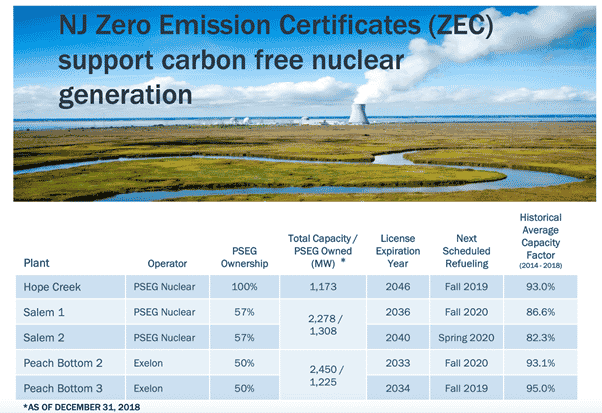 Public Service Enterprise Group is exploring alternatives to 6,750 megawatts of fossil generation in New Jersey, Connecticut, New York and Maryland, and its 467-megawatt Solar Source portfolio across 14 states, according to a July 31 press release. The New Jersey utility intends to retain its existing nuclear fleet, in order to help the state achieve its carbon reduction goals. The company said it is evaluating potential investments in offshore wind, including the opportunity to invest in the 1.1-gigawatt Ocean Wind project being developed by Orsted A/S.
The move aims to accelerate PSEG's transition to a primarily regulated electric and gas utility with a zero-carbon generation platform, consistent with New Jersey's goal of achieving carbon-free power by 2050.
The fossil fuel generators only represent a small part of PSEG's non-nuclear business, and therefore, the move will not have an impact on the company's current shareholders, according to Ralph Izzo, Chairman of the company. The utility said it has engaged financial institutions and law firms as advisors for the potential transaction to be launched in the fourth quarter and completed in 2021.
Looking forward, PSEG – the oldest and largest investor-owned utility in New Jersey – will further invest in the state's clean energy agenda:
Public Service Electric and Gas Co., one of PSEG's principal operating subsidiaries, will allocate $3.5 billion in Clean Energy Future funding to expand energy efficiency programs, electric vehicle infrastructure, advanced metering, and energy cloud services.
PSEG is weighing opportunities in offshore wind and has the potential to be an equity investor in the 1.1-gigawatt Ørsted's Ocean Wind project approved last year; the company is evaluating participation in the upcoming offshore wind solicitations to advance New Jersey's 3.5-gigawatt offshore wind goal by 2030.
The utility wants to maintain ownership of PSEG Power's existing nuclear fleet as nuclear energy would be a cost-effective source of zero-carbon electricity to meet New Jersey's long-term emissions reduction goals; PSEG is also a primary beneficiary of the state's $300 million annual subsidy.
Public Service Electric and Gas Co., PSEG Power, and PSEG Long Island are the main operating subsidiaries of PSEG.