Solar, Wind Represent 76 Percent of New Electric Generating Capacity in 2020: EIA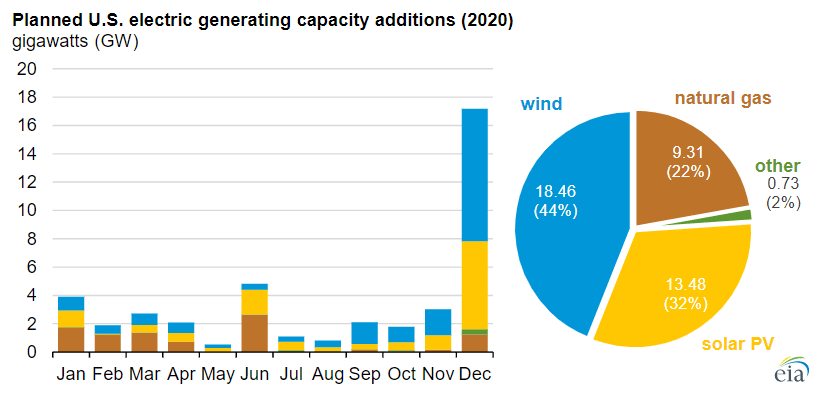 About 42 gigawatts of new power generating capacity is expected to come online in 2020, with solar and wind accounting for almost 32 gigawatts of the capacity, according to a Jan. 14 report from the U.S. Energy Information Administration. Wind represents the largest share at 44 percent, followed by solar at 32 percent and natural gas at 22 percent. The remainder comes from hydroelectric generators and battery storage.
The impending expiration of the U.S. production tax credit at the end of this year is driving the large wind capacity addition, with 18.5 gigawatts scheduled to begin commercial operations, surpassing the 2012 record of 13.2 gigawatts. Five states account for more than half of the 2020 additions. Texas represents 32 percent, followed by Oklahoma at 6 percent, and then Wyoming, Colorado, and Missouri at 5 percent each.
The planned solar capacity addition of 13.5 gigawatts outpaces the previous annual record of 8 gigawatts set in 2016. More than half of the utility-scale electric power sector solar photovoltaic additions will be in four states. Texas accounts for 22 percent, followed by California at 15 percent, Florida at 11 percent, and South Carolina at 10 percent. The agency expects an additional 5.1 gigawatts of small-scale solar PV capacity to enter service by the end of this year.
Planned natural gas capacity additions for 2020 are 9.3, gigawatts with more than 70 percent of these additions in Pennsylvania, Texas, California, and Louisiana.
Of the 5.8 gigawatts of coal-fired capacity expected to retire in 2020, half of the capacity is located in Kentucky and Ohio. Two nuclear plants — Indian Point Unit 2 in New York and Duane Arnold Energy Center in Iowa — totaling 1.6 gigawatts are scheduled to retire in 2020.