U.S. Emissions From Coal Drops to Four-Year Low Amid Changing Power Mix: EIA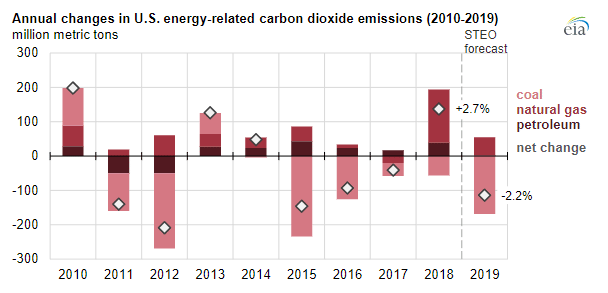 Carbon emissions from coal are expected to fall by 169 million metric tons in 2019, the largest decline since 2015, due largely to changes in the electricity mix with natural gas becoming the dominant power generation fuel, according to a July 15 report from the U.S. Energy Information Administration. U.S. energy-related emissions are projected to see a 2.2 percent decrease this year, after a 2.7 percent increase in 2018.
The first three months of 2019 and 2018 experienced nearly equal amount of emissions, the agency said, noting that the first quarter of each year typically has the highest emissions.

In the last three decades, only 6 years showed an emissions trend trend that was different from the first quarter, and 2019 will be the seventh such year, with annual emissions decreasing despite a first-quarter rise.

Emissions from natural gas are expected to grow by 53 MMmt this year, but the increase will not offset the decline in coal emissions as gas-fired generation is less carbon-intensive.

Petroleum-related emissions, which have risen in each of the last six years, is expected to remain virtually flat this year.