U.S. Energy Consumption Reached Record Low in 2020: EIA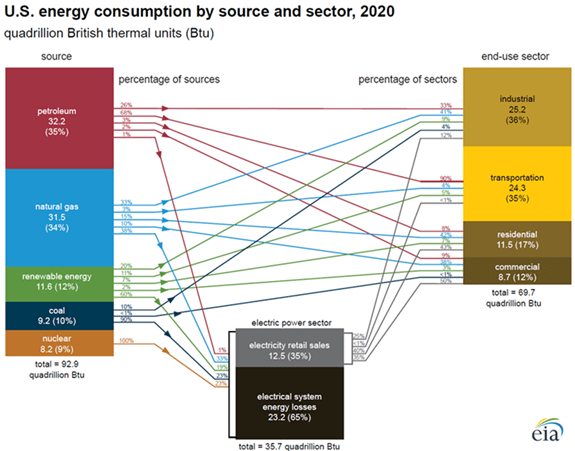 U.S.energy consumption totaled 92.9 quadrillion British thermal units in 2020, a record 7 percent decrease from 2019, according to a June 4 report from the U.S. Energy Information Administration. Renewable energy consumption increased by 2 percent, whereas all other fuels decreased: coal by 19 percent, petroleum by 13 percent, natural gas by 2 percent, and nuclear by 2 percent.
The agency uses a fossil fuel equivalence to convert renewables to Btus, since they are noncombustible and therefore do not have an inherent thermal rate to measure. Instead, the amount of fossil energy replaced by noncombustible renewables is estimated through an annual weighted-average conversion rate.
Energy consumption fell in all four end-use sectors—transportation, industrial, residential, and commercial— after accounting for electrical system energy losses. Transportation consumption fell by 14 percent, industrial by 4 percent, residential by 3 percent, and commercial by 7 percent.
The power sector regularly accounts for about 90 percent of coal consumption, with the industrial sector accounting for the rest. In 2020, the power sector's total power consumption decreased by 3 percent. This sector, which typically accounts for half or more of U.S. renewable energy use, consumed 60 percent of renewable energy in 2020, a level last reached in 1998. The share of natural gas consumption in the power sector has been on the rise, increasing to 38 percent last year from 22 percent in 2000.
Industrial sector consumption exceeded that of the transportation sector for the first time since 1999 after accounting for energy losses. The sector's renewable consumption has decreased from 30 percent to 20 percent in the last 15 years. During that period, the transportation sector's consumption increased by 10 percent, due largely to increased fuel ethanol consumption. The transportation sector consumes the most petroleum, accounting for 70 percent of consumption, and the industrial sector accounts most of the rest. Petroleum consumption in the transportation sector fell by 16 percent, over four quads, in 2020 compared to 2019 levels, and by less than one quad in the industrial, residential, and commercial sectors.
The residential and commercial sectors account for less than 10 percent of renewable energy consumption. Natural gas consumption in these sectors fluctuates with weather, since the fuel is primarily used in those sectors for heating.
---
Enerknol Pulses like this one are powered by the Enerknol Platform the first comprehensive database for real-time energy policy tracking. Sign up for a free trial below for access to key regulatory data and deep industry insights across the energy spectrum.
ACCESS FREE TRIAL