U.S. Energy-Related Emissions Rise After Four Years Amid Higher Natural Gas, Petroleum Use: EIA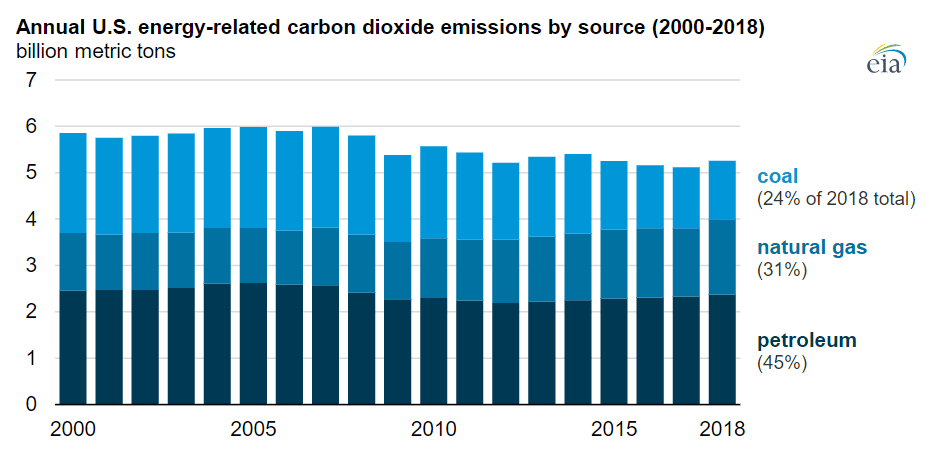 U.S. energy sector carbon emissions rose by 2.7 percent last year compared to 2017, reaching 5.27 billion metric tons, according to a Nov. 26 report from the U.S. Energy Information Administration. Emissions in 2018 rose for the first time since 2014, driven by higher natural consumption to meet demand during extreme weather conditions and transportation-related petroleum use linked to a strong economy, the agency said.
Energy-related emissions dropped in 6 of the past 10 years and were 12 percent lower in 2018 than in 2005.

The agency recorded a 10 percent hike in emissions related to natural gas — the most prevalent fuel used for heating and power generation — due to higher heating and cooling demand in the colder winter and hotter summer, respectively.

Petroleum consumption growth contributed to a 1.9 percent rise in emissions last year; strong economic progress led to higher diesel consumption, which resulted in a 6 percent increase in related CO2 emissions.

Coal-related emissions declined by 4 percent last year, making coal the only fossil fuel with lower CO2 emissions in 2018 compared with 2017.

Electricity generation grew by 3.6 percent in 2018, but power sector emissions rose by only 1.1 percent amid the shift in the generation mix from coal toward natural gas and renewable energy.