U.S. LNG Exports Rose by 42 Percent in First Half of 2021: EIA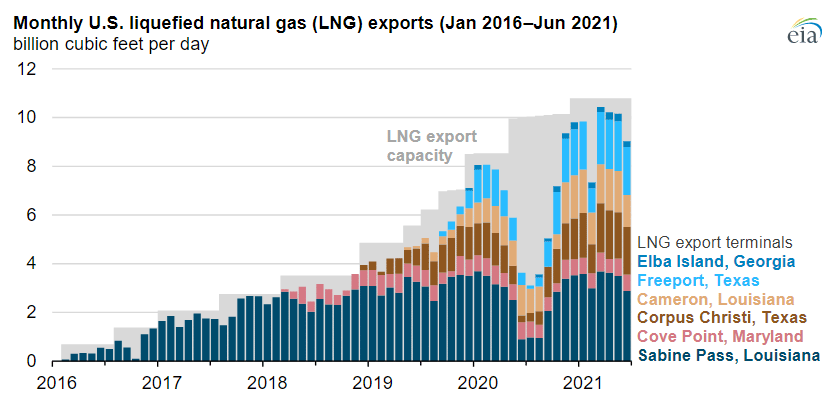 U.S. liquefied natural gas exports hit record highs in the first half of 2021, averaging 9.6 billion cubic feet per day (Bcf/d), according to a July 27 report from the U.S. Energy Information Administration. This represents a 42 percent increase from exports during the same period in 2020, when gas exports hit record lows during the summer months.
Asia remains the top destination for U.S. gas from January through May in 2021, accounting for 46 percent of total exports. Europe follows Asia with a five-month average share of 37 percent. Exports to Latin America, especially Brazil, also increased as the country is experiencing its worst drought in more than 90 years.
Colder-than-normal 2020 winter temperatures in both Asia and Europe increased demand for natural gas. In Asia, countries seeking to replenish post-winter inventories contributed to unseasonably high gas prices and prompted nations to look for more flexible supply from the U.S. Europe faced a similar struggle with low inventories after winter followed by increasingly hot temperatures in early summer months, creating high demand from the power sector and high natural gas spot prices.
New liquefaction units increased U.S. export capacity by a combined 2.7 Bcf/d—a one-third increase from 2020 capacity—for a total peak capacity of 10.8 Bcf/d. In June, U.S. gas exports declined slightly due to pipeline maintenance.
---
Enerknol Pulses like this one are powered by the Enerknol Platform the first comprehensive database for real-time energy policy tracking. Sign up for a free trial below for access to key regulatory data and deep industry insights across the energy spectrum.
ACCESS FREE TRIAL