U.S. Natural Gas Exports Decline Amid Economic Slowdown Caused by COVID-19: EIA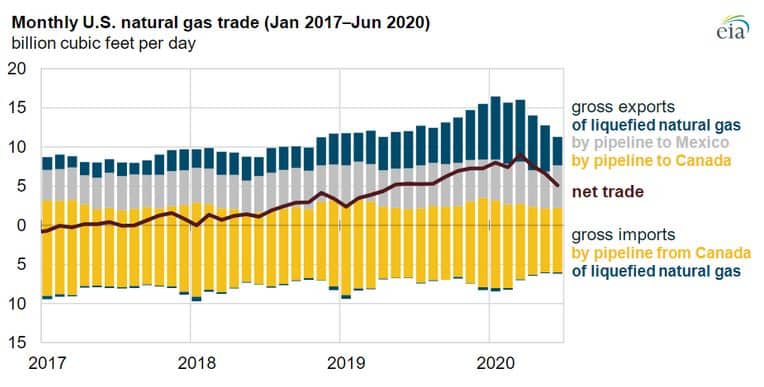 U.S. net natural gas exports continued to grow in the first six months of 2020 compared to the same period last year, but began to decline in spring 2020 due to the global economic slowdown resulting from the COVID-19 pandemic and related containment measures, according to a Sept. 15 report from the U.S. Energy Information Administration.
The U.S. became a net natural gas exporter in 2017, with exports exceeding imports on an annual basis for the first time in nearly six decades. Since then net exports have more than doubled every year, growing from 2 billion cubic feet per day in 2018 and to 5.2 billion cubic feet per day in 2019.
In the first half of this year, net exports of natural gas were nearly 80 percent more compared to the same period last year and LNG exports increased by almost 60 percent. Overall, LNG exports started to decline in April amid global reduction in natural gas consumption and a decline in global natural gas and LNG prices. In June 2020, U.S. LNG exports averaged 3.6 billion cubic feet per day, or less than half of January's LNG exports.
The country is a net exporter of natural gas by pipeline to Mexico and a net importer by pipeline from Canada. Net pipeline exports to Mexico increased by 4 percent, and net imports by pipeline from Canada dropped by 12 percent compared to the first half of 2019.
Exports by pipeline to Mexico have been growing gradually following an expansion of cross-border pipeline capacity from the U.S. to Mexico. Pipeline exports to Canada remained unchanged in the first six months of 2020 compared with the same period last year. However, pipeline imports from Canada have declined by 9 percent over the same period mainly because of higher demand in Canada at the end of the winter season due to low storage inventories and higher natural gas spot prices in Canada.
Net natural gas exports are projected to continue growing in the coming months due largely to increasing U.S. LNG exports, according to the agency's September 2020 short-term outlook. LNG exports will stay relatively low in September as transmission infrastructure damages near Cameron LNG could delay the restart of exports. However, LNG exports are expected to return to pre-COVID levels by November 2020.