U.S. Natural gas Exports, Power Sector Consumption Hit New Highs in 2020: EIA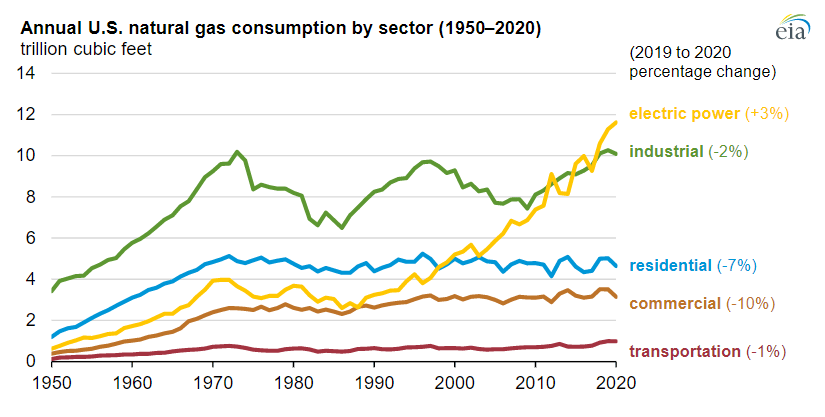 Natural gas exports rose by 13 percent from 2019 to 2020, reaching 5.3 trillion cubic feet, according to a June 7 report from the U.S. Energy Information Administration. Consumption also grew in the U.S. electric power sector, increasing by 3 percent over the same period. Since 2011, 100 coal plants across the U.S. have been retrofitted or replaced with natural gas. Production of natural gas plant liquids in the U.S. rose to 2.7 trillion cubic feet last year, up about 7 percent from 2019.
Coal was previously the primary source of U.S electricity generation until 2016 when natural gas became widely used. Mexico has been one of the largest recipients of U.S natural gas exports, reaching a record high in 2020. Half of the natural gas exports have been directed towards the Asian region, while almost all of U.S gas imports come from Canada. The liquefaction process is expensive but is required to convert natural gas from its original gaseous state to liquefied natural gas, ready for export. As a result of this high cost, transporting the gas has made it difficult to trade in the past keeping regional markets functioning in silos. U.S dry natural gas production decreased in 2020 by 2 percent from the previous year. The agency projects that there will be less power from natural gas because of the rising fuel costs.
The transition to a sustainable low-carbon economy  has helped propel the increase of natural gas use from a decarbonization perspective. Natural gas markets have been responsive to regional factors in comparison to crude oil which is more responsive to world events, which may be more important now since gas prices have been rising steadily. The Federal Energy Regulatory Commission back in February reopened its review of the 1999 policy statement regarding the certification of new natural gas facilities. Furthermore, Washington regulators have been preparing the landscape by issuing a policy statement providing guidance to help utilities design and implement renewable natural gas programs compliant with applicable laws, allowing for a more flexible regulatory framework for utilities and customers.
---
Enerknol Pulses like this one are powered by the Enerknol Platform the first comprehensive database for real-time energy policy tracking. Sign up for a free trial below for access to key regulatory data and deep industry insights across the energy spectrum.
ACCESS FREE TRIAL