U.S. Natural Gas Flaring Hit Record High in 2018 Amid Glut in Oil Production: EIA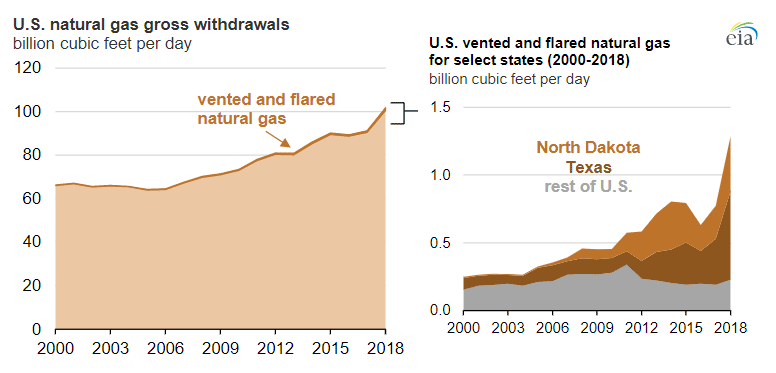 Venting and flaring of U.S. natural gas reached its highest average annual level of 1.28 billion cubic feet per day in 2018, with North Dakota and Texas accounting for 82 percent of the amount, according to a Dec. 6 report from the U.S. Energy Information Administration. As crude oil production has outpaced the buildout of infrastructure to handle the natural gas extracted during oil production, the industry increasingly relies on this practice to manage undeliverable gas production from oil wells, the agency said. The percentage of gas that was vented and flared increased to 1.25 percent of gross withdrawals in 2018, up from 0.84 percent the previous year.
State agencies are largely responsible for regulating venting and flaring — releasing gas into the atmosphere or burning off on site — by imposing restrictions and natural gas capture requirements. When possible, flaring is preferred because methane, the main component of natural gas, is a more potent greenhouse gas compared to carbon dioxide that results from flaring.
In North Dakota's Bakken play, one of the most prolific crude oil producing areas in the U.S., production grew five-fold from 2010-2018, reaching about 1.5 million barrels per day. During this period, natural gas processing plant capacity has not kept pace with the amount of associated gas being produced from oil wells. In 2018, North Dakota flared 0.40 Bcf/d, which is 17 percent of total natural gas gross withdrawals in North Dakota and the highest percentage share of any state.
In Texas, the Permian Basin and Eagle Ford plays have contributed the steep growth in flaring and venting, which exceeded 0.65 Bcf/d in 2018, about 2.5 percent of total 2018 gross withdrawals in the state, and nearly double the 2017 level.
Both Texas and North Dakota are working with producers to limit the need for flaring without shutting down or affecting production of crude oil from new wells; venting is banned in North Dakota and restricted in Texas.