U.S. Primed for 13 Gigawatts of Wind Additions in 2019, Largest in Seven Years, as Tax Incentives Phase Out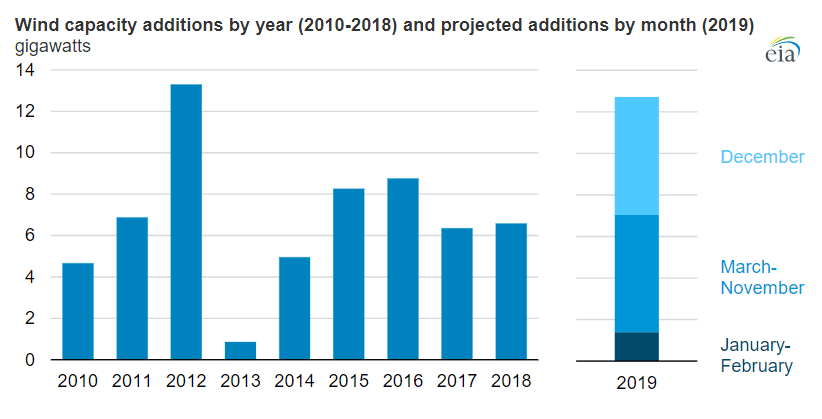 The U.S. is expected to add 12.7 gigawatts of wind capacity this year, the largest since the 2012 high of 13.3 gigawatts, according to a May 15 report from the U.S. Energy Information Administration. The growth is largely driven by the scheduled phase-out of the federal production tax credit, which provides a credit for each kilowatt-hour of electricity produced over the first 10 years of operation for a utility-scale wind turbine.
The record high growth in 2012 was driven by developers scheduling project completion in time to qualify for the PTC, which was initially set to expire at the end of 2012 but was later retroactively renewed.

The four-year extension of the PTC in 2015 decreases the credit by 20 percentage points per year from 2017 through 2019.

U.S. wind project developers who want to take advantage of the full 2016 value of the PTC must begin operations by the end of 2020.

Based on the latest reported project statuses, the EIA projects more wind capacity to come online by the end of 2019 than by the end of 2020.

About 5.7 gigawatts, or nearly 45 percent of the annual total are currently expected to be completed in December.