U.S. Shale Oil Production Set to Almost Double by 2030: EIA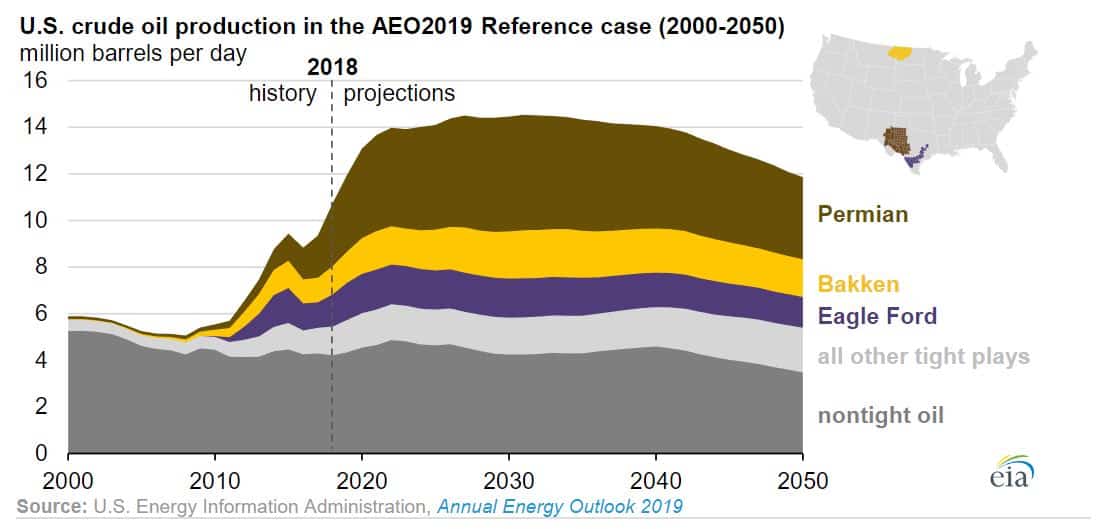 U.S. shale oil production, which became the more common form of oil extraction in 2015, will continue to grow through 2030, ultimately reaching more than 10 million barrels per day compared to 2018's 6.5 million. Shale oil, also known as tight oil, accounted for 61 percent of total U.S. production in 2018, according to the Energy Information Administration's Annual Energy Outlook 2019.
The agency projects that U.S. shale oil production will continue to expand as the industry develops more efficient ways to drill and reduces costs, making it less dependent on oil price fluctuations.
Tight oil production is being developed primarily in the Permian Basin, located in western Texas and eastern New Mexico, where three major tight oil plays, the Spraberry, Bone Spring, and Wolfcamp, accounted for 41 percent of U.S. tight oil production in 2018.
Approximately half of the nation's cumulative tight oil production through 2050 is expected to come from these three plays in the Permian Basin. The Bakken play, in Montana and North Dakota, and the Eagle Ford play, in Texas, will also remain major contributors to U.S. tight oil supply through 2050, accounting for 19 percent and 17 percent of cumulative tight oil production, respectively.