U.S. Solar Module Imports Recover After Tariffs Thanks to Declining Costs: EIA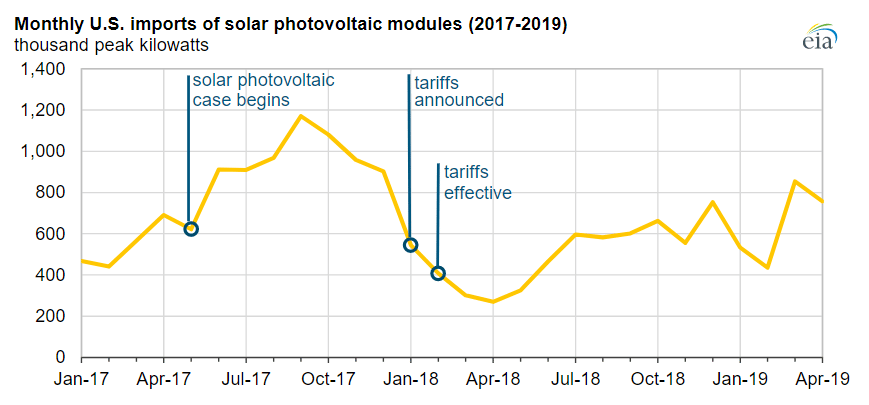 The U.S. imported an average of 644,000 kilowatts per month of solar panels during the first four months of this year, up from less than 300,000 kilowatts in the months following the imposition of tariffs on imported solar in February 2018, according to an Aug. 13 report from the U.S. Energy Information Administration. Continued decline in the cost of solar photovoltaic modules likely offset some of the effects of the tariff, the agency said.
The Trump administration slapped tariffs on panels after bankrupt solar manufacturers Suniva and SolarWorld asked for relief, citing a flood of cheap, foreign imports. The tariffs were set to phase down from 30 percent in increments of 5 percentage points over three years. The first 2.5 gigawatts of imported cells per year, as well as imports from certain developing nations are exempt from the tariffs.
Average monthly imports from January to April were 16 percent higher compared to the same period in 2017, before the announcement of the trade case that led to the tariffs. The global average spot prices of monocrystalline and multicrystalline modules, without including any tariffs, dropped by 27 percent and 26 percent, respectively, from December 2017 to July 2018.