U.S. Summer Electricity Demand Projected to Hit Decade Low: EIA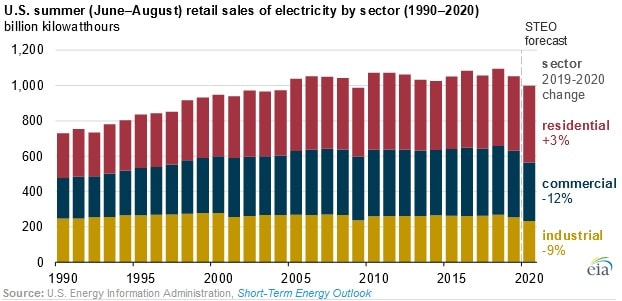 U.S. summer electricity demand, from June through August, is expected to total 998 billion kilowatthours, a 5 percent drop compared to 2019 and the lowest value since 2009, according to a June 10 report from the U.S. Energy Information Administration.
Retail electricity sales in the commercial and industrial sectors are expected to decline 12 percent and 9 percent, respectively, while residential sales are predicted to grow 3 percent as a result of social distancing and more people working from home.
The National Oceanic and Atmospheric Administration forecasts a 1 percent drop in U.S. cooling degree days, an indicator of demand for air conditioning, over the summer.
One of the primary factors determining electricity demand in the residential and commercial sectors is the weather, although other factors are affecting demand more than temperature this year, such as stay-at-home orders and social distance guidelines which shift it from the commercial sector to the residential sector.
The agency estimates the coal generation share to drop from 24 percent in 2019, to 17 percent this year.
Natural gas-fired power plants are projected to generate 467 billion kilowatthours, a slight increase from last summer, and natural gas prices are expected to remain low, making it a more economical option than coal-generated power; natural gas share of electricity generation is estimated to rise from 41 percent to 44 percent this summer.
Wind and utility-scale solar shares are forecast to increase 7 percent and 3 percent, respectively, driven by generating capacity additions in the Midwest region and Texas.