U.S. Utilities Expected to Add 10 Gigawatts of Battery Storage From 2021-2023: EIA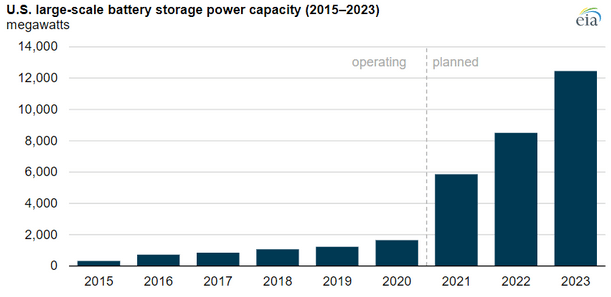 U.S. large-scale battery power capacity grew by 35 percent in 2020, reaching 1.65 gigawatts, according to an Aug. 20 report from the U.S. Energy Information Administration. Battery power capacity tripled over the last five years. Between 2021-2023, utilities are expected to install more than 10 gigawatts of additional capacity, which is about ten times the capacity added in 2019.
Many planned storage projects are expected to be co-located with generation, a deviation from the trend of the past few years. As of December 2020, only 38 percent of U.S. large-scale battery storage systems were co-located with generation – 30 percent with renewable resources and 8 percent with fossil fueled generators. Planned projects that are expected to come online between 2021 and 2023 represent a 30-60 percent increase in the share of co-located facilities.
California, Texas, Illinois, Massachusetts, and Hawaii account for more than 70 percent of U.S. battery storage power capacity as of December 2020, with California representing the largest share at 31 percent or 506 megawatts of capacity. The remaining states each have over 50 megawatts of capacity.
Historically, the regions covered by the grid operators PJM Interconnection and California Independent System Operator attracted capacity additions because of favorable market rules. These regions accounted for more than 60 percent of the large-scale battery system capacity as of the end of 2019. Large-scale battery storage systems increased by 28 percent from 2018-2019.
Average battery system costs fell by 72 percent from 2015 to 2019; lower costs support more storage capacity at each facility, increasing the duration for which a system can operate at its maximum power. As a result of lower capital costs, almost a third of large-scale storage additions are projected to come from states outside of the aforementioned primary development regions between 2021 and 2023.
For more detailed policy updates, key insights, and policy monitors related to emerging battery storage trends, check out our EnerKnol Policy Primer.
---
Enerknol Pulses like this one are powered by the Enerknol Platform the first comprehensive database for real-time energy policy tracking. Sign up for a free trial below for access to key regulatory data and deep industry insights across the energy spectrum.
ACCESS FREE TRIAL