U.S. Wind, Solar Developers Brace for Project Delays as COVID-19 Crisis Disrupts Supply Chain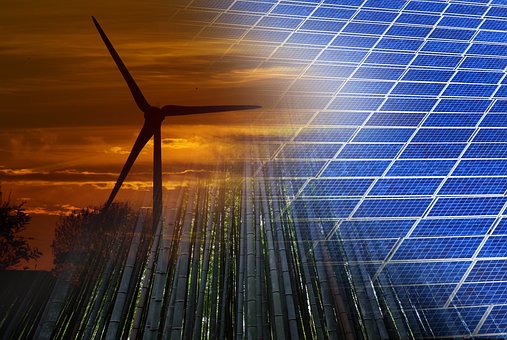 Solar and wind developers are faced with tough challenges as the COVID-19 pandemic disrupts the global supply chain, affecting project timelines. Delays have the potential to threaten power purchase contracts and federal tax credits that are crucial for project economics. The crisis has triggered an economic slowdown as governments take measures to curb the advance of the outbreak, which the World Health Organisation characterized as a pandemic on March 11.
The American Wind Energy Association's initial estimates show that the slowdown could put over 35,000 jobs at risk and jeopardize $43 billion in investments and payments to rural communities. The crisis is putting an estimated 25 gigawatts of wind projects at risk, representing $35 billion in investment, including the potential loss of over $8 billion to rural communities in the form of state and local tax payments and land-lease payments, according to the association.
U.S. annual wind electricity generation surpassed hydropower for the first time in 2019 to become the largest source of renewable electricity generation in the U.S., according to the U.S. Energy Information Administration. The U.S. added 10 gigawatts of wind capacity in 2019, with 3.8 gigawatts installed in the fourth quarter, making 2019 the second-largest year for wind additions after 2012. Project delays could prevent wind energy companies from capitalizing on the federal production tax credit, which Congress recently extended by an additional year, allowing facilities that begin during 2020 to qualify for 60 percent of the incentive.
The Solar Energy Industries Association said that members have been reporting about supply chain disruptions, project delays, and sales challenges. The trade group expressed concerns about companies' ability to meet project delivery deadlines and potential changes to the tax treatment or eligibility for state incentives as a result of delays. Fading federal tax credits have spurred rapid growth in the solar industry, with 2019 being the last year for the investment tax credit's full 30 percent value, before declining to 26 percent in 2020, 22 percent in 2021, and 10 percent in 2022 and beyond. Long-term contracts under the federal Public Utility Regulatory Policies Act have also favored the market for utility-scale solar. SEIA is examining policy options at the federal and state level to accommodate the unexpected delays and detrimental impacts that the industry is facing.
In a joint letter to Congress, AWEA and SEIA requested for an extension of wind and solar commence construction and safe harbour provisions under the tax incentive program, in order to support recovery of the industries. The groups said that the ability to receive direct payments for or refundability of tax credits would allow the current project pipeline to move forward.