Utility-Scale Wind Accounted for 70 Percent of Michigan's Renewable Energy in 2019: Report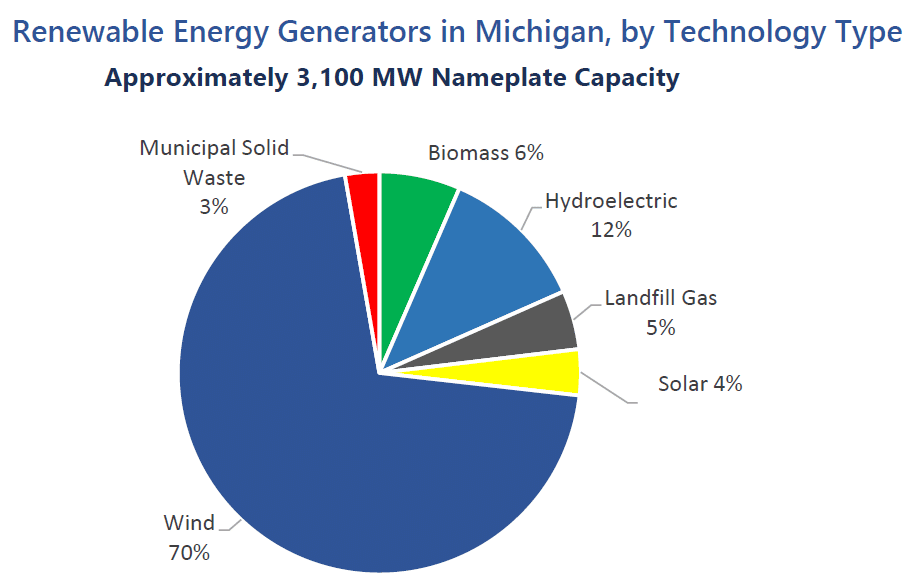 Utility-scale wind generators accounted for 70 percent of the 3.1 gigawatts of renewable energy capacity in Michigan last year, according to a Feb. 18 report by the state's Public Service Commission. Across the state, new wind and solar projects are expected to add more than one gigawatt of new, utility-scale electricity generation in 2020 and 2021.
The commission released two reports on the implementation of the renewable portfolio standard and utilities' energy waste reduction programs. Legislation enacted in 2016 raised the state's renewable energy standard from 10 percent in 2015 to at least 12.5 percent in both 2019 and 2020, with a final requirement of at least 15 percent in 2021. The law includes a goal of meeting at least 35 percent of the state's electric needs through a combination of energy waste reduction and renewable energy by 2025.
Among the major findings:
Since the renewable portfolio standards were established in 2008, about 1.9 gigawatts of new renewable energy projects came online through 2019, with investments totaling about $3.9 billion.
Hydroelectric and landfill gas facilities held steady at 12 percent and 5 percent, respectively, while solar installations were at 4 percent and municipal solid waste at 3 percent; biomass declined to 6 percent from 7 percent the year before.
Consumers Energy's weighted average cost of solar dropped from $160.00 to $54.69, following a 100-megawatt solar power contract with a levelized cost of $44.16 per megawatt hour, affecting the combined weighted average for Consumers Energy and DTE Electric; the combined weighted average for solar is now $73.08, a significant decrease from last year's cost of $121.27.
The weighted average price of renewable energy projects and contracts is $61.74 per megawatt hour, down from $68.27 the year before.
Michigan's investor-owned, cooperative and municipal electric companies spent nearly $333 million spent on energy waste reduction programs, which are expected to save customers nearly $1.1 billion in utility costs over the 12-year lifecycle of the efforts adopted in 2018.
Energy waste reduction programs cost utilities $16.23 per megawatt hour, cheaper than the $42.80 per megawatt hour it would cost through building new generation facilities.