Venture Global LNG's Plaquemines Export Project Wins U.S. Energy Department Approval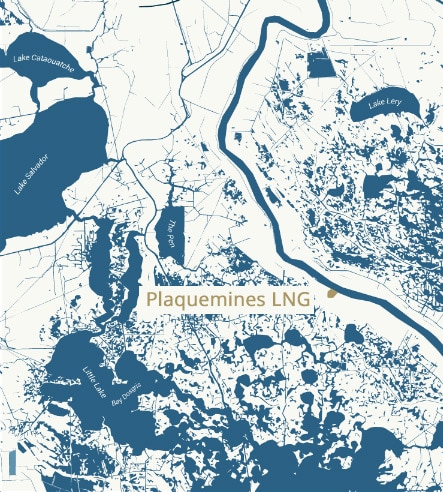 The U.S. Energy Department authorized Venture Global Plaquemines LNG LLC to export liquefied natural gas equivalent to 3.4 billion cubic feet per day from its proposed export facility in Plaquemines Parish, Louisiana to countries with non-free trade agreement for a term of 20 years, according to an Oct. 16 order. With this project, the agency has authorized about 38 Bcf/d of exports in the form of LNG and compressed natural gas.
Last month, the company received approval from the Federal Energy Regulatory Commission to site and construct the project. The proposed export terminal, which consists of liquefaction and distribution facilities on a site leased by Venture Global on the Mississippi River, is designed to have a capacity of 20 million metric tons per annum. The facility would receive natural gas via Gator Express pipeline project, which has also received FERC approval. The pipeline consists of two parallel lines, the 15-mile-long Southwest Lateral Tennessee Gas Pipeline LLC Pipeline and the 12-mile long Southwest Lateral Texas Eastern Transmission LP.
The U.S. is now in its third year as a net exporter of natural gas, with export volumes reaching 5 Bcf/d. Of the approved export capacity to date, about 15 Bcf/d of capacity is in various stages of operation and construction across eight large-scale projects.
Plaquemines LNG is a subsidiary of Venture Global LNG Inc. The project is expected to commence construction in late 2019 with full commercial operations anticipated in 2023.