Western Power Market Delivers $800 Million in Benefits Over Five Years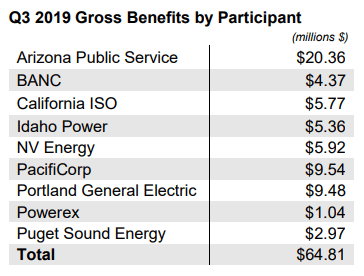 The Western Energy Imbalance market generated about $65 million in savings in the third quarter of this year, with total benefits reaching about $801 million since its launch in November 2014, according to a Nov. 1 press release from the California Independent System Operator Corporation.
The energy imbalance market is an automated system that secures the lowest-cost energy to serve real-time customer demand over a broad region spanning across multiple western states. The market optimizes resources from a larger and more diverse pool, facilitating integration of surplus renewable that may otherwise be curtailed. The effective use of carbon-free generation has resulted in a gross reduction of about 418,000 metric tons of carbon dioxide since 2015, according to the grid operator.
The market currently has nine participants, including Idaho Power, NV Energy, Puget Sound Energy, Powerex, and the Sacramento Municipal Utility District. By 2022, participants representing 77 percent of Western Electricity Coordinating Council's total load will be active in the EIM, according to the ISO.