Wisconsin Regulator Advances WEGO's $184 Million Natural Gas Line with Draft Assessment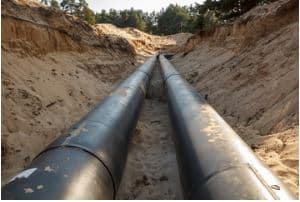 The Public Service Commission of Wisconsin issued a draft environmental impact statement for Wisconsin Electric Power Company-Gas Operations' Lakeshore Lateral natural gas line, according to the Oct. 4 filling. The draft report identified impacts and minor route adjustments, with recommendations available in the final report.
The new natural gas transmission would be approximately 46 miles in length, starting from the existing Bluff Creek Gate Station in the town of Whitewater, southern Wisconsin, and ending at the Lakeshore Capacity Improvement Project (LCIP) Regulator Station in the town of Paris, to the east. WEGO proposed two primary routes for the new pipeline with estimated total costs for the proposed project ranging from $184.2 million to $191.8 million, depending on the route.
According to WEGO, the project will increase the quantity and reliability of natural gas service in southeastern Wisconsin given projected load growth, planned distribution facility modifications, and pipeline capacity alternatives serving the region. WEGO would meet these needs by using the LLP to supply natural gas from the Guardian Pipeline to the LCIP Regulator Station.
The company is a subsidiary of WEC Energy Group Inc.