DTE Electric Wins Michigan Approval to Buy 455 Megawatts of Wind Power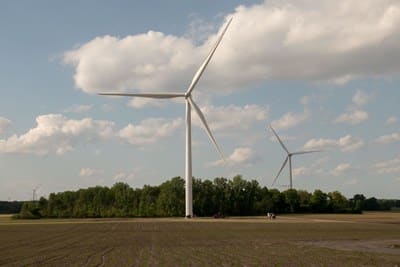 The Michigan Public Service Commission on July 18 approved part of DTE Electric Co.'s renewable energy plan, which includes the purchase of about 455 megawatts of wind power that will qualify for the full federal tax credit. The investments are expected to boost the company's renewable energy portfolio by nearly 50 percent. The agency said that future renewable energy developments will be reviewed under the company's long-term resource plan.
The wind project portfolio includes three projects. Apex Clean Energy's Isabella I and II totaling 383 megawatts that are being in Isabella County will come online by November 2020. Heritage Sustainable Energy's 72-megawatt Fairbanks Wind Park in Delta County is expected to begin operations by next October. Power generated from the projects will be used to meet the needs of large customers under DTE's voluntary green pricing program under which participants can choose to meet a portion of their electricity needs from renewable energy resources.
The agency found that DTE failed to show that projects to be built in 2021 or later, and which do not qualify for a 100 percent federal production tax credit, are cost-effective. A decision on the additional projects will be made in the company's integrated resource plan proceeding.
DTE Electric is a subsidiary of DTE Energy Company.