EnerKnol Special Report: Texas Outages Raise Questions About ERCOT's Reliability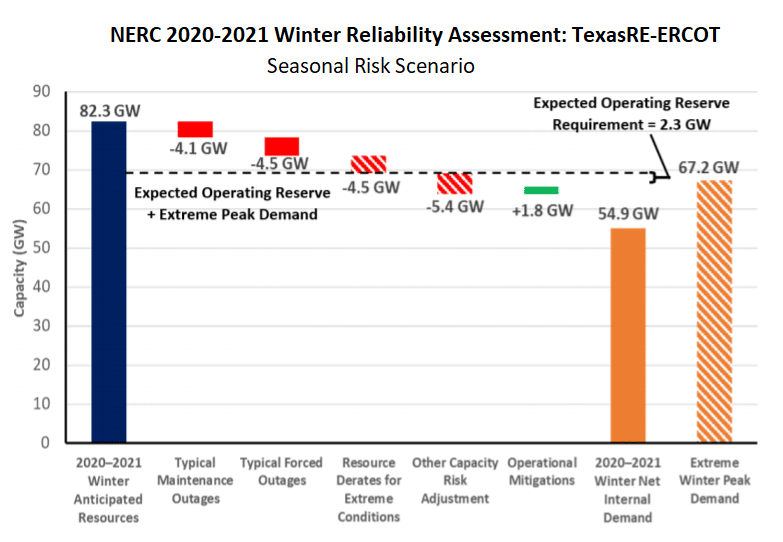 EnerKnol is committed to providing real-time transparency of the fragmented and highly technical landscape of energy regulation.  With this as our guiding principle we are examining our database of over 35,000,000 regulatory records for insights into last week's reliability failure.
The Electric Reliability Council of Texas Inc.'s (ERCOT) 2020 Operations Report and Plan, filed with the Texas Public Utilities Commission on Jan. 15, provides an assessment of the reliability and adequacy of the ERCOT system during extreme weather conditions. Based on its Seasonal Assessment of Resource Adequacy (SARA) report for winter 2020-2021, ERCOT concluded that the system should have sufficient generation capacity to serve forecasted peak demand under a normal outage rate and under expected weather conditions. 
In its winter SARA, released in November 2020, ERCOT anticipated nearly 83,000 megawatts of resource capacity to be available to meet the projected peak demand of 57,699 megawatts for the upcoming winter season from December 2020 to February 2021. The winter peak demand forecast is based on normal weather conditions during peak periods, from 2004 through 2018. For scale, ERCOT's record demand for winter was set in January 2018, wherein demand reached a staggering 65,915 megawatts in the early hours of the morning.
The 2020 plan also describes the methodology and results of ERCOT's site visits to aid in evaluating grid reliability during extreme weather conditions and verify implementation of generator weatherization procedures. However, ERCOT said its analysis is limited to determine whether each operator has followed the procedures and it "takes no opinion on whether the measures taken by any particular generator are sufficient to prevent any outage of the unit during certain extreme weather conditions." 
The SARA report includes a unit outage forecast of 8.6 gigawatts during the winter months, which is based on "historical winter outage data compiled since 2017."
ERCOT, however, is not solely responsible for reliability.  By law, the North American Electric Reliability Corporation (NERC) oversees the reliability of the bulk power system. NERC contracts with regional authorities to monitor the regional power grids.  The Texas Regional Entity (TexasRE) is responsible for ensuring that ERCOT complies with NERC standards.
NERC's 2020-2021 Winter Reliability Assessment, released in November 2020, concluded that sufficient resource capacity is in place across North America to meet winter demand, but also warned that high reliance on natural gas-fired generation and limited natural gas infrastructure elevates reliability risk in New England, California, and the southwestern U.S. The assessment details the anticipated electricity demand and supply changes and highlights any regional challenges or expected conditions that may affect the bulk power system. Among other highlights, the report notes that
 "ERCOT expects to have sufficient resources under scenarios that assume low wind output as well as extreme peak load conditions with an associated increase in unit outages and derates due to weather-related natural gas supply disruptions."
NERC's summary of TexasRE-ERCOT reliability echoes ERCOT's outage estimate of 8.6 gigawatts and includes 4.5 gigawatts of extreme condition derates.  The outage forecasts will certainly be an important topic for future inquiry.
The reliability risk due to extreme weather has been known for years. 
NERC's assessment builds on the work begun in response to severe weather disruptions in 2016-2017. The agency published a special reliability assessment in November 2017 providing an analysis of the potential impacts to reliability as a result of a large disruption on the natural gas system. The report, entitled Potential Bulk Power System Impacts Due to Severe Disruptions on the Natural Gas System, specifically recommends that entities consider the loss of key natural gas infrastructure in their planning studies as reliance on natural gas to meet generation requirements increases.  NERC highlighted the shift in electric generating resources with ongoing retirements of coal-fired and nuclear capacity coupled with growth in natural gas, wind, and solar resources.
ERCOT acknowledged NERC's recommendations as recently as Sept.18, 2020 in their NERC Fuel Assurance Reliability Guideline. 
ERCOT's last major publication on fuel security dates to their April 2012 Natural Gas Curtailment Risk Study, which examined multiple scenarios ranging from 1-10 years of the risks presented by supply curtailments to generators. At least 60 percent of ERCOT's generators indicated interconnects with more than one pipeline and this redundancy could help mitigate risks associated with disruptions, according to the study. The NERC 2017 report evaluated this ERCOT report, concluding that "the scope of the study did not extend to an analysis of the reliability of the electric transmission network in ERCOT's territory."
In the coming days we will provide additional resources that contribute to an informed understanding of last week's reliability failure.