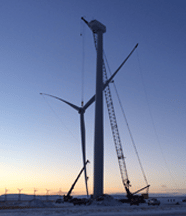 The Federal Energy Regulatory Commission on Dec. 31 authorized NJR Clean Energy Ventures II Corporation to sell its interests in four wind energy projects totaling 117 megawatts to SRIV Partnership LLC. NJR Clean Energy said that the $208.5 million transaction completes the sale of all its operating wind facilities. In June, the company sold a 9.7-megawatt wind farm in Two Dot, Montana to NorthWestern Energy for $18.5 million.
The project companies are Alexander Wind Farm LLC, Ringer Hill Wind LLC, Carroll Area Wind Farm LLC, and Medicine Bow Wind LLC, which own and operate wind generation facilities of 50.7 megawatts, 39.9 megawatts, 20 megawatts, and 6.3 megawatts, respectively.
NJR Clean Energy Ventures is a subsidiary of NJR Clean Energy Corporation. SRIV Partnership is a subsidiary of SRV Holdings, which, in turn, is a subsidiary of Skyline Renewables LLC.