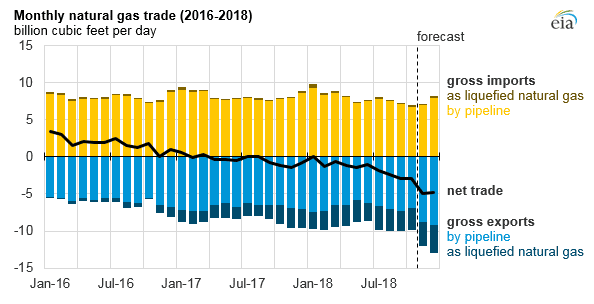 The U.S. natural gas export trend continues thanks to increases in liquefied natural gas export capacity and expansion of the cross-border pipeline network into Mexico, according to a Jan. 7 report from the U.S. Energy Information Administration. In 2017, the U.S. became a net exporter of natural for the first time since 1958.
The agency expects record production levels in 2018 with the first 10 months showing a 11 percent increase in dry natural gas output compared to the same period in 2017.
Growth in natural gas output is driven by surging production in the Appalachian Basin in the Northeast, Permian Basin in western Texas and New Mexico, and Haynesville Shale in Texas and Louisiana.
Domestic consumption rose 17 percent through the first ten months of 2018 compared to the prior year, due largely to natural gas replacing coal in the power generation sector.