Coal-Fired Plants to Generate 13 Percent Less Power This Summer Amid Rise in Natural Gas, Renewables: EIA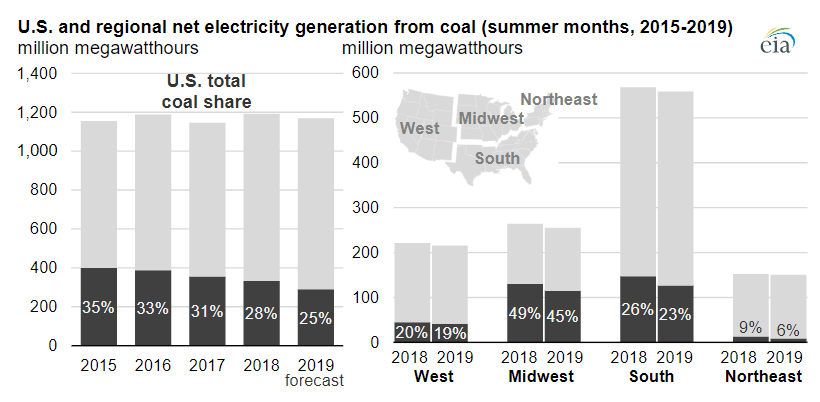 U.S. power plants are projected to generate 2 percent less power during the summer months of 2019 compared to last year due to changes in the mix of energy sources, according to a May 9 report from the U.S. Energy Information Administration. Coal is forecast to supply 25 percent of generation this summer, down from 28 percent while natural gas represents the largest share at 40 percent, up from 39 percent last summer.
U.S. coal-fired power plants are expected to generate 289 million megawatt-hours of electricity this summer, 13 percent less than last summer.

Natural gas-fired power plants will generate 472 million megawatt-hours, 2.5 percent higher than last year, and account for about half of the electricity generation mix in both the South and Northeast Census regions.

The supply from nuclear power plants is projected to remain unchanged at 18 percent.

The share of nonhydro renewables  will remain the same at 9 percent, while  hydro is forecast to provide 7 percent of the generation, up from 6 percent last summer.

Wind is expected to provide the largest share of generation this summer, at 6 percent.

On an annual basis, wind is expected to provide 8 percent of the national total, slightly higher than hydro's share at 7 percent, marking the first time that hydro did not provide the most renewable generation.