Coal Power Plants With Higher Costs Will Account for 66 Percent of Retirements Over Next Decade: EIA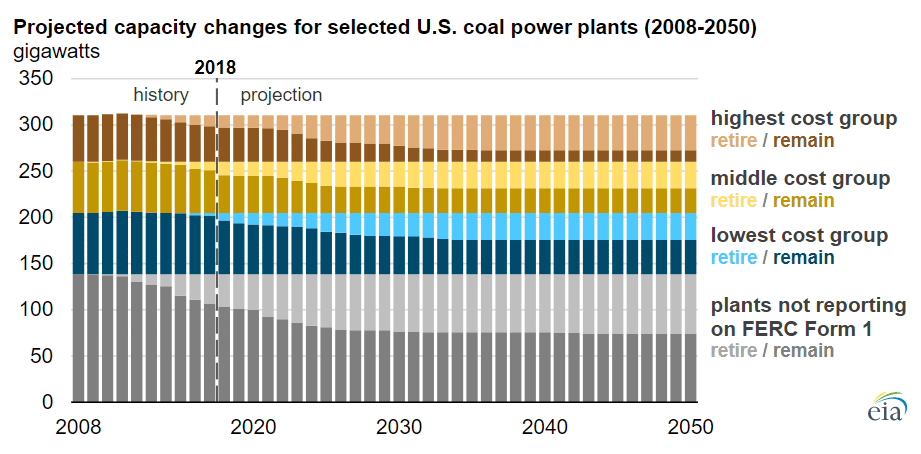 Coal-fired power plants with higher operating and maintenance costs are more likely to retire, with about 66 percent of units in the highest operating cost group expected to close between 2019 and 2030, compared to 36 percent in the lowest cost group, according to a Dec. 3 report from the U.S. Energy Information Administration. The projections stem from the agency's study with Sargent & Lundy, showing a relationship between retirements and costs. The number of operating coal plants in the highest operating cost group dropped to 47 percent in 2017 from 75 percent in 2008.
U.S. coal-fired electric generating capacity declined to 257 gigawatts in 2017, since peaking at nearly 318 gigawatts in 2011.

Sustained low natural gas prices has rendered gas-fired generators more competitive, causing coal-fired generation to fall, which in turn lowers coal plant revenues that translate to lower operating margins, less ability to cover costs, and in many cases, retirement of the capacity.

Grouping coal plants based on their average costs, the report found that from 2008-2017, the highest cost group operated at $28 per megawatthour to $40/MWh, while the lowest cost group required $20/MWh to $26/MWh; the middle group operated near the average, ranging from $26/MWh to $28/MWh.

As natural gas prices fell and coal use decreased, the capacity factor — the power plant's electricity output as a percentage of its generating capacity — at coal-fired power plants dropped to 54 percent in 2017 from 75 percent in 2008.