Dakota Access Pipeline Ordered to Shut Down Pending Environmental Review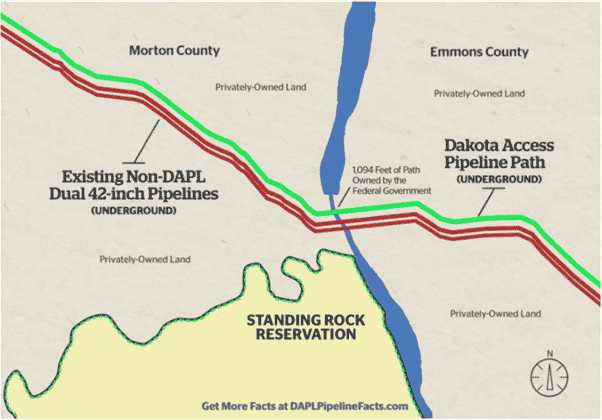 The U.S. District Court for the District of Columbia on July 6 ordered Energy Transfer Partners LP to shut down the Dakota Access pipeline and empty it of oil until the completion of an environmental review, which is expected to take 13 months. The court found that the U.S. Army Corps of Engineers violated the National Environmental Policy Act when it granted an easement to build and operate a portion of the pipeline running under Lake Oahe. The decision is a stunning victory for the Standing Rock Sioux Tribe, which has fought against the pipeline since 2016. The company must close the pipeline by Aug. 5.
The court noted that it is mindful of the disruption such a shutdown will cause, but concluded that "clear precedent favoring vacatur during such a remand coupled with the seriousness of the Corps' deficiencies outweighs the negative effects of halting the oil flow" for the duration required to prepare an environmental impact statement.
The $3.8 billion project was subject to protests during its construction in 2016 and 2017 because it crosses the Missouri River at Lake Oahe,  just north of the Standing Rock Sioux Reservation. Last August, the tribe petitioned the court to order a full environmental analysis. The court granted the request in a March 25 ruling, but asked for a separate briefing on an interim remedy namely, vacating the easement and emptying the pipeline during the remand process. The latest decision concludes that shutting down the pipeline is necessary.
The order has economic implications for the project's operators, and also impacts gathering and processing companies in the Bakken region. The 1,172-mile pipeline, which has been operating since June 2017, transports crude oil from the Bakken and Three Forks production areas in North Dakota to a terminal in Illinois. The pipeline is designed to transport approximately 470,000 barrels of oil per day, with a capacity of up to 570,000 barrels.
The Trump Administration said that the pipeline has generated approximately 10,000 jobs to the local communities and stimulated the economy. Millions of tax dollars revenue each year that could go forwards to improve public service would be eliminated after the pipeline shuts down. U.S. Secretary of Energy Dan Brouillette expressed dissatisfaction with the obstructions from environmental lobbies and reiterated to firmly support the development of energy infrastructure in the U.S. 
On the other side, environmental groups such as the Sierra Club considered the ruling as a major victory for local Indian American tribes. The shut down of the pipeline will help protect the critical water resources from being polluted by oil leaks, according to the group.