LNG Imports Eased Gas Price Volatility in New England This Winter: EIA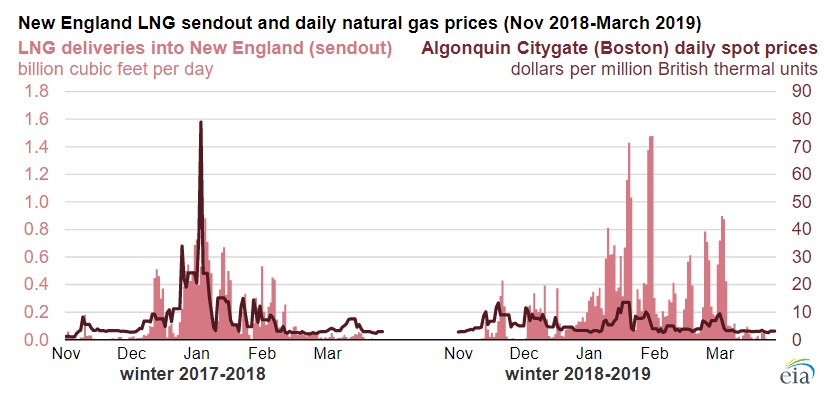 During the 2018-2019 winter, spot prices at the Algonquin Citygate, a trading hub and benchmark for natural gas prices in New England, remained under $14 per million British thermal units and averaged at about $7 in January and February, according to a May 13 report from the U.S. Energy Information Administration. Last winter, the bomb cyclone event on January 4, 2018, saw prices spike to nearly $80 per million British thermal units. Prices remained stable this winter thanks to imports of liquefied natural gas, which is regasified and sent to distribution networks.
Imports of liquefied natural gas to the New England region can serve as an important marginal supply source during times of high demand in the winter. New England is not a natural gas producing region and also lacks underground storage infrastructure, rendering gas prices volatile during cold weather when demand is high and pipelines are congested.
From November 2018 through March 2019, LNG imports averaged 0.24 billion cubic feet per day and peaked at 1.48 Bcf/d on February 1. By comparison, imports averaged averaged 0.14 Bcf/d during the same period last winter and peaked at 0.88 Bcf/d on January 6 during the bomb cyclone event.
The region receives LNG from two onshore facilities, the Canaport terminal in Canada and Everett terminal in Boston, Massachusetts that have a combined capacity of 1.7 Bcf/d. The Northeast Gateway Deepwater Port, an offshore terminal near Boston having a capacity of 0.4 Bfc/d, also supplies the region.
---
Enerknol Pulses like this one are powered by the Enerknol Platform the first comprehensive database for real-time energy policy tracking. Sign up for a free trial below for access to key regulatory data and deep industry insights across the energy spectrum.
ACCESS FREE TRIAL