New Hampshire Approves Bill to Adopt Revised Regional Carbon Market Rules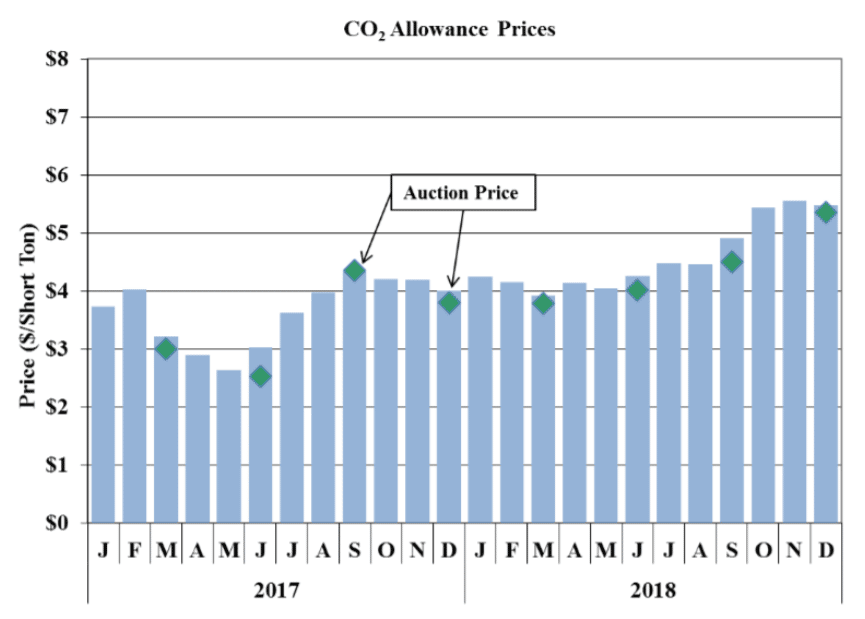 The New Hampshire legislature passed a measure on May 8 amending regulations governing the state's participation in the Regional Greenhouse Gas Initiative, or RGGI, to be consistent with the program's updated model rule adopted in December 2017. The nine-state compact established the nation's first mandatory emissions trading program.
The bill revises the statewide budget allowance, starting at about 3.96 million in 2021 and set to decline gradually to 2.89 million in 2030. The price threshold for releasing additional allowances for the purpose of cost containment ranges from about $10.5 in 2019 to $23.89 in 2030.
In December 2017, RGGI released the updated 2017 Model Rule that will guide the program 2020-2030. Most importantly, the update reduces the emissions to 30 percent below 2020 levels. The new rule also creates an emissions containment reserve, an adjustment mechanism that allows states to withhold allowances from the auction if prices drop below a specified threshold, ranging from $6 to $11.02 between 2021 and 2030. Similarly, the price threshold above which allowances in the cost containment reserve are released into the market will grow from $13 to $23.89 over the same period.
The 43rd quarterly auction held in March, sold all of the 12.9 million carbon allowances available at a clearing price of $5.27. The average auction clearing price rose 29 percent from $3.42 in 2017 to $4.41 in 2018, according to RGGI's 2018 annual report. Prices rebounded during the third quarter of 2017, following the announcement of planned changes to the program, ending the year at around $5.50.
RGGI's market-based approach sets an annually declining limit on carbon emissions and allows polluters to buy or sell permits. Participating states establish a regional carbon emissions budget and allowance trading program for emissions from fossil fuel-fired electricity generating units.