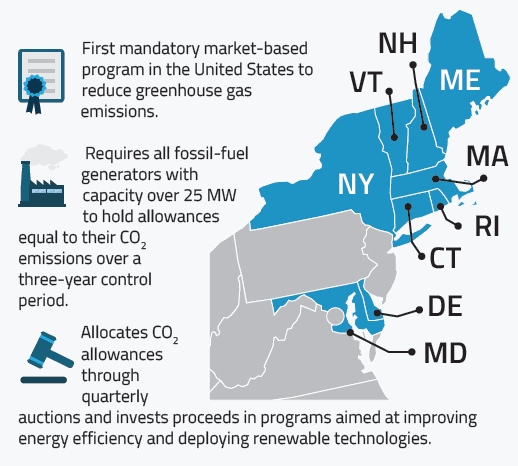 The New Jersey Department of Environmental Protection proposed to set an initial carbon dioxide cap at 18 million tons in 2020 for the electricity generation sector when the state officially becomes a member of the Regional Greenhouse Gas Initiative, the nation's first mandatory cap-and-trade program to reduce greenhouse gas emissions, according to a Dec. 17 news release. The department also proposed a rule to establish a framework to spend carbon auction proceeds, prioritizing investments in disproportionately burdened communities. The state plans to participate in the RGGI carbon-dioxide auction scheduled for March 2020.
The proposed emissions cap, which is below the estimated actual emissions of 20.6 million tons in 2020, would decline 3 percent annually through 2030 with other adjustments that are common to member states. Since 2005, member states have lowered power plant emissions by an aggregate of more than 50 percent.
Democratic Governor Phil Murphy signed an executive order in January 2018 directing the department and the public utilities board to begin the process of rejoining the nine-member compact. Murphy's predecessor, Chris Christie, a Republican, withdrew New Jersey from the program in 2012, citing a lack of effectiveness and uncertainty over its future. The Murphy administration has set a goal of 100 percent clean energy for New Jersey by 2050.
Written comments on the proposal are due by Feb. 15. The comment process includes public hearings on Jan. 25.